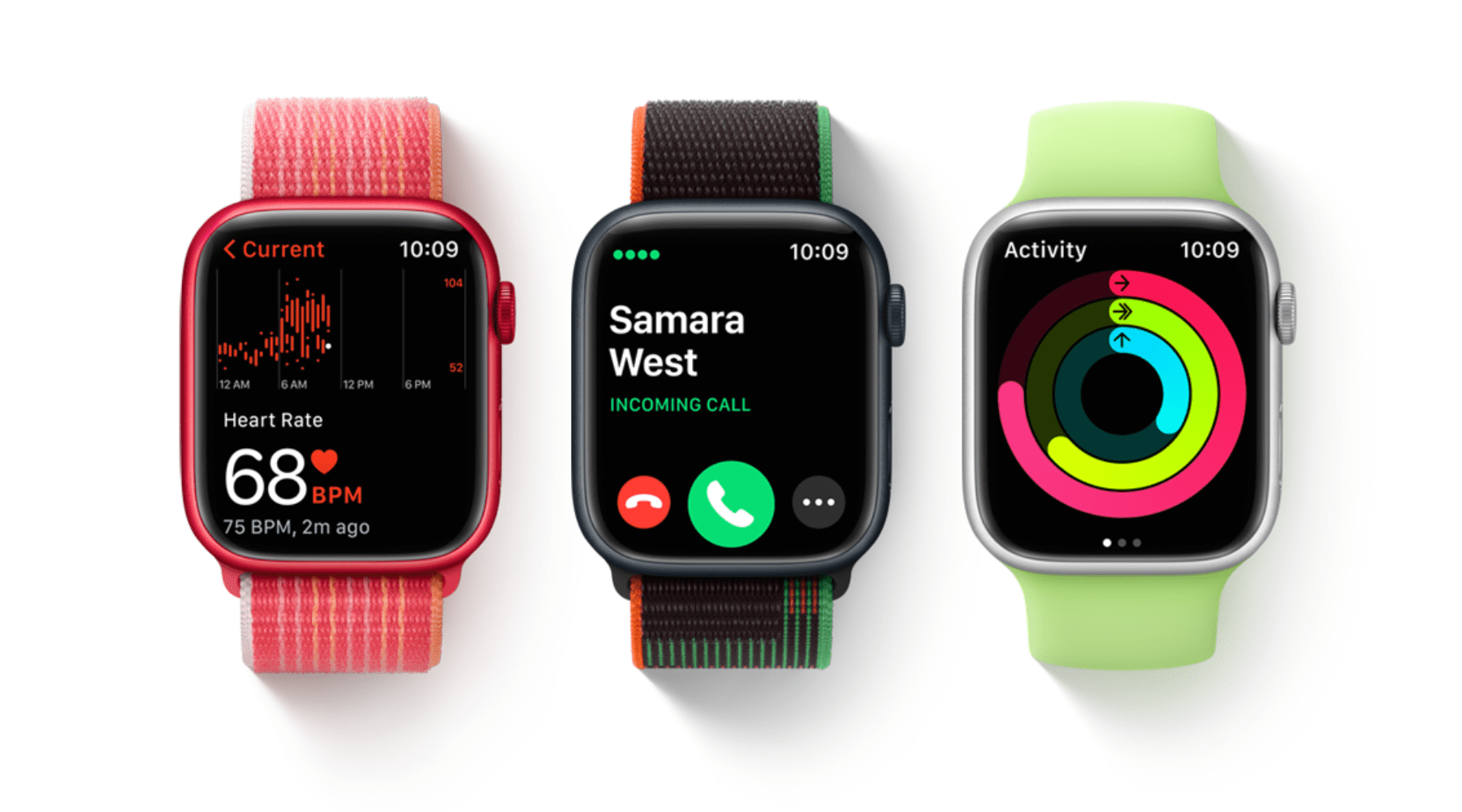 The History of the Apple Watch (2015-2023)
Since the first inception of the Apple Watch back in 2015, the world of modern smartwatches has forever been revolutionised and the bar has continuously been placed higher and higher with each new iteration that's released! Seemingly with each year that passes, we're stepping further and further into the futuristic vision previously only seen in sci-fi films and media: Smart watches that can send calls, texts and even read your heartbeat! How did we come so far? Let's have a look at the brief (but game-changing) history of the Apple Watch.
Original Apple Watch (April 2015)
Released in April of 2015, the original Apple Watch (unofficially referred to as the Series 0) set the foundations for what modern smartwatches now build upon. While other companies has attempted to create a smartwatch in the past, they were often bulky, impractical and had limited functionality - Apple seemed to set the bar for what a "Smart Watch" would be defined as. A rectangular watch that was available in two sizes, including a smaller size which is something that other companies seemed to be lacking at the time.
While the Series 0 Apple Watch was a groundbreaking piece of tech for the time, it wasn't without its hangups. Performance-wise the Apple Watch was very slow, interactions would take too long to the point where users would often just open up their iPhone in order to check something, as opposed to waiting for their watch to load it up. There were a few things that Apple seemed to get wrong with their first Apple Watch model, a gleaming example of this seemed to be selling $10,000+ versions of the original Apple Watch. However, this was Apple's first venture into the smartwatch market and they were already working on their next generations.
Apple Watch Series 1 & 2 (September 2016)
Over a year after the release of the original, Apple announced an amended version of the Apple Watch which improved upon the "flawed" design of the original. It arrived at a much more reasonable price point of $269, and fixed the main issue of the original - speed! It featured a new dual-core processor that was over 50% faster than the original, drastically improving performance across the device. 
At the same time as the Series 1, Apple also released their Series 2 Apple Watch. This introduced some of the, now important and vital features to the watch such as GPS sensor and waterproofing that would allow the wearer to swim in a pool with their Apple Watch on their arm. It also introduced the "Breathe" app which would allow users to take a moment out of their busy day to focus on breathing exercises. This is one of many breakthrough features that other companies would try to build upon with their devices. The Series 2 Apple Watch finally felt like an accomplished smartwatch device, sales seemed to be picking up a bit and it received a warm reception.
Apple Watch Series 3 (September 2017)
The Series 3 Apple Watch was released one year after the Series 2, seemingly paving the way for annual Apple Watch releases (following suit with the iPhone) This was a notable milestone in the Apple Watch timeline: The first model with independent cellular connection, allowing the user to take and make calls directly from their Apple Watch! These watches cost a bit more and users had to pay a $10 monthly fee to their cell provider, but this was a massive game-changer for anyone who didn't want to rely on carrying their phone around with them.
Featuring a brand new (and much faster) S3 processor and more RAM, as well as a barometric altimeter for elevation tracking when out doing activities. Siri was also introduced for the first time on Apple Watches, allowing for better accessibility. Apple had proven that they were serious about creating the best smartwatch on the market, and that the had listened to customer's thoughts and complaints.
Apple Watch Series 4 (September 2018)
By the time of the launch of the Apple Watch Series 4 in September of 2017, most of the speed and performance issues had been fixed. The physical design had also been improved, with larger screen sizes (now 44mm up from 38mm, and 44mm up from 42mm)
Innovations in silicone meant that Apple introduced a faster processor, as well as a new W3 chip which supported bluetooth connectivity. Possibly one of the biggest additions to the Apple Watch, one that's equally as popular worldwide now as when it was first introduced: ECG sensors. Apple Watch users could now take electrocardiograph scans from their wrist, providing them with information on things like heart rate, as well as warning about health issues.
Possibly the most useful,  groundbreaking and revolutionary feature to be introduced with the Series 4 was Fall Detection - If the Apple Watch accelerometers detect a sudden fall or drop, followed by a short period of motionlessness, the Apple Watch will display a message onscreen asking the wearer if they're okay and if they need medical assistance. If the message isn't dismissed or there's still no movement after a minute, then the Apple Watch will call the emergency services or an emergency contact, providing them with GPS information as to the user's location and allowing for easier location of the possibly injured wearer.
This feature was mainly aimed at elderly or people with limited movement, but since it's introduction it has quickly become one of the most recognised and highly revered features in Apple's history. There are countless stories online (and on our blog pages!) from people whose lives were saved by the Apple Watch's Fall Detection feature. As Apple themselves would put it, this was the first step towards the Apple Watch become a "health guardian"
Apple Watch Series 5 (September 2019)
 The launch of the Series 5 Apple Watch finally brought to life a feature that Apple fans had been requesting for a long time: Always-on display! In order for this to be a reality, Apple needed a new screen technology called "LTPO" which, according to Apple, means "low-temperature polysilicone and oxide" which allowed the screen to refresh very slowly when not "in use" (at 1Hz) and then return to normal functionality (60Hz) when in use.
Other features were introduced, such as a compass which now allowed users to better navigate, emergency calling, better storage (32GB) and an improved ambient light sensor. It also managed to maintain its 18-hour battery life that it had become known for
Apple Watch Series 6 (September 2020)
With September 2020 came the Apple Watch Series 6, which from a design and performance standpoint was one of the less extraordinary releases as it seemed to keep a lot of the features from the previous Series 5. That being said, the Series 6 introduced 2 new colours for users to choose from: Red and blue! Allowing for slightly more personalisation.
Seemingly the main new feature that Apple introduced was Sp02 (blood oxygen) sensor that could monitor the user's blood oxygen levels, being able to potentially spot any abnormalities or predict the onset on any illnesses, which made the Apple Watch quite the notable health-companion. It also added (a very basic form of) sleep tracking and a slightly brighter screen for indoor use. Is also included a new S6 chip which introduced 20% faster performance when compared to the Series 5 or 4.
 Apple Watch SE (September 2020)
Alongside the launch of the Series 6, Apple also released their Apple Watch SE. It didn't feature the always on display, or the ECG and blood oxygen sensor so why would they release it? It was mainly marketed as a more affordable Apple Watch for consumers who just wanted a functional smartwatch, the price point was a big feature for the SE - starting at just $280, compared to the original $400. Users could also upgrade to the cellular version of the SE which allowed them to make and receive calls and texts for just $50 extra. 
Apple Watch Series 7 (September 2021)
 Despite many rumours of a completely new design, the Apple Watch Series 7 looked the same as previous models. What had changed with the new model was the screen size - Apple had reduced the size of the borders around the display screen, enabling for an overall larger display which now reached the sides of the screen (as opposed to having a black "border" around it like with previous models) This meant that the smallest size available was now 41mm (up from 40mm on previous models) and the larger size was now 45mm (vs 44mm previously)
These 1mm changes don't sound like much at all, but from looking at the new display it really made a difference. The curved screen meant that the display would "wrap around" the sides of the screen, which was all designed whilst maintaining the original dimensions for the watch. This meant that the Series 7 was still compatible with previous Apple Watch straps.
One of the big improvements for the Series 7 was faster charging - 33% faster than previous models. Users could now top their Apple Watch up for 15-20 minutes in the morning and this would be able to provide the watch with enough power for the day, and still allow for seamless sleep tracking at night. It did require a new "puck" charger, which used a Magsafe connection to charge the watch wirelessly. It also introduced an onscreen keyboard for typing!
Apple Watch Series 8, SE 2022, Apple Watch Ultra (September 2022)
September 2022 was a big month for Apple Watch enthusiasts, the release of THREE new Apple Watches. The new and improved Apple Watch SE (2022) brought a brand new processor (the S8 chip) which provided a faster performance and functionality to the watch. The SE also featured crash detection, similar to the fall detection of previous models - it detects any sudden bumps or movements and will contact the emergency services if the user is unconscious. It was also, again, a cheaper alternative to other Apple Watches on the market with a price tag of just $249.
The Series 8 Apple Watch didn't bring a lot of new features, It did introduce body temperature monitoring and enhanced sleep analysis, providing users with even more insight into their well-being. It continued to push the boundaries of performance and battery life.
The Apple Watch Ultra was arguably Apple's biggest new development in Apple Watches since the Series 0 first dropped back in 2015! This was a rugged design Apple Watch that was conceptualised, designed and produced completely for outdoor and extreme activities. It featured a chunkier design and frame (made from titanium and a sapphire glass screen) designed to be able to take a few knocks, as well as a more prominent and ribbed digital crown wheel, so that it could be used underwater or with gloves on.
The Apple Watch Ultra revolutionised the world of sports watches and truly set the bar sky high for other companies to surpass. It was waterproof up to 100 meters, featured a built-in dive computer that could monitor water pressure and temperature. The battery life could last up to 2 days thanks to the larger battery, which provided power to the display which could reach up to 2000 nits of brightness! Other features included an 86 decibel emergency siren that would be able to attract attention in the case of an emergency, crash detection, dual frequency GPS, dual speakers and microphone array. The Apple Watch Ultra revolutionised the sports watch market and seemed to kick up interest in Apple Watches again.
Apple Watch Series 9, Apple Watch Ultra 2 (September 2023)
 And so we arrive in recent times, September 2023. The Apple Watch Series 9 and the Apple Watch Ultra 2 (AWU2) both brought very few updates, seemingly the biggest new feature that Apple introduced with both models is the new "double tap" gesture. Users can now answer calls, turn off alarms or make selections in apps without even raising their hands, simply by tapping their thumb and index finger together twice - the Apple Watches sensors would detect the change in blood flow and muscle tension and then carry out the selected action. The commercial for this new feature showed a mountain climber answering a phone call with one hand whilst hanging off the side of a mountain.
Both new Apple Watches featured Apple's new S9 chip for better performance, the Series 9 display could now reach 2000 Nits of brightness (same level as the Gen 1 AWU) and the AWU2 could now reach 3000 Nits, both being able to go down to just 1 Nit. They also brought out their UWB2 chip which allowed for more precise and accurate location of lost items like iPhones. Apple also announced their plan for complete carbon neutrality, so they did away with a lot of their previous packaging and accessories - they will no longer be selling leather straps for their Apple Watches. 
And if you're looking for a genuine leather strap for your Apple Watch (maybe you've got the latest Series 9, or you're still rocking the OG Series 1) well our range of premium luxury genuine leather Apple Watch straps will fit any model from across this 8-year timeline! Feel free to have a browse of our site and our luxury straps HERE!
Which was your favourite Apple Watch? Let us know in the comments below and be sure to check out some of our other Apple Watch blogs!