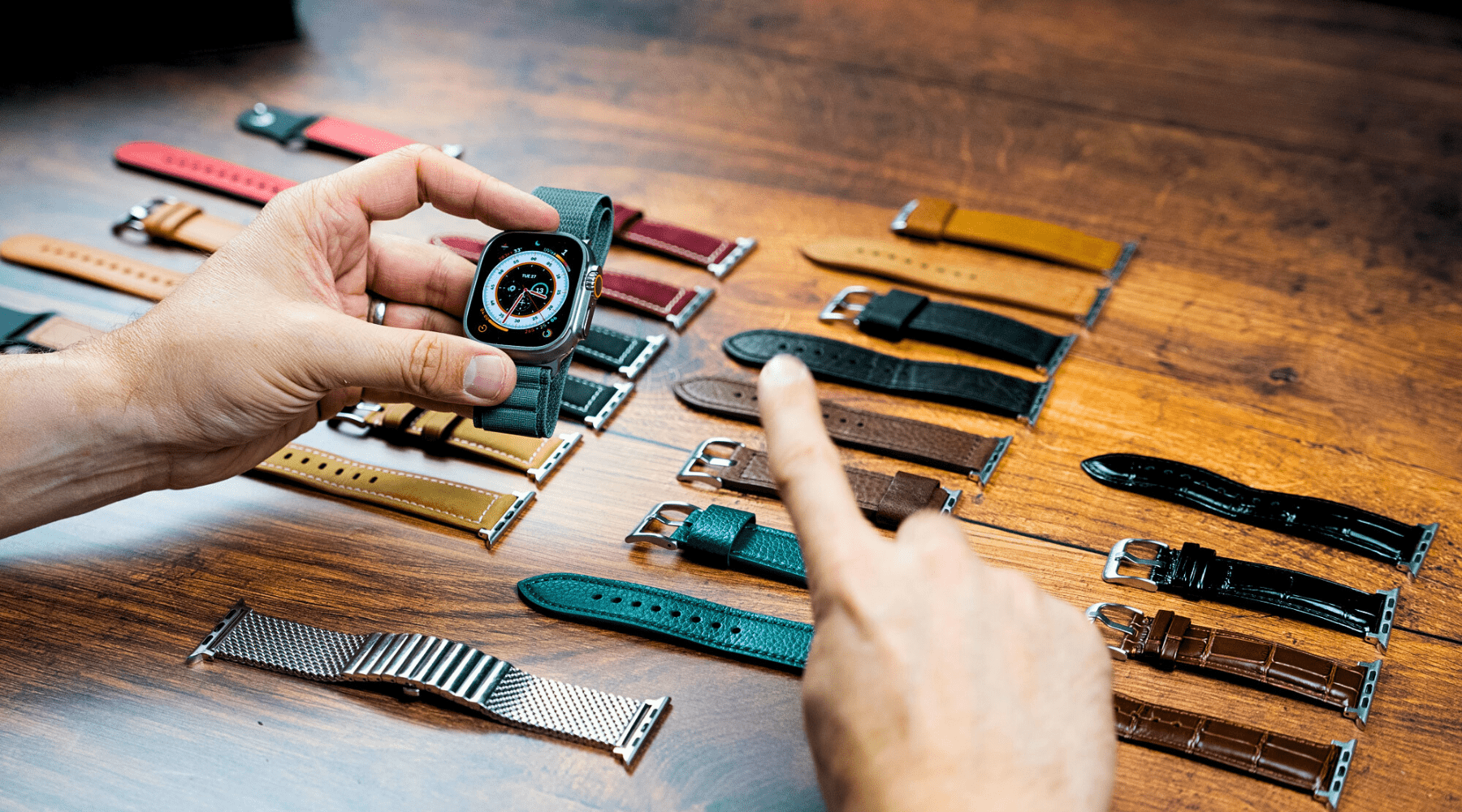 Best straps for the Apple Watch Ultra
The Apple Watch Ultra was first launched in 2022, and took the smartwatch world by storm. Pinned as a more rugged and "outdoor" version of the Apple Watch, targeted towards active users who participate in more "extreme" outdoorsy sports or activities such as kayaking, hiking, mountaineering, scuba diving, running and so much more. Features such as 100 meter waterproofing and pressure resistance, a solid casing made from aerospace-grade titanium, a brighter (2,000 Nits) display and an 86 decibel emergency siren are what sets the Ultra apart from its predecessors.
With all this power and strength in an Apple Watch, it makes sense to pair it with a sturdy strap that can hold up equally as well against the elements to which it'll be exposed. Apple does offer a variety of bands for its watches, each with its own unique qualities and aesthetics (Alpine strap for mountaineering, Trail strap for hiking and walks and the Ocean rubber strap for....well.....the ocean) While their bands are undoubtedly well-crafted, there are alternatives out there that can elevate your Apple Watch experience.
Buckle and Band
Established in 2020, Buckle and Band are a British company who specialise in high quality luxury Apple Watch straps and leather accessories. Our aim is to produce the best high quality leather (and vegan leather) straps and accessories on the market. We've been obsessed with the Apple Watch ever since the original dropped back in 2015 and wanted to make some truly unique straps to pair them with.
Hybri Sports Strap
Our range of Hybri sports and workout straps are the perfect companion for any outdoorsy active folk, perfectly tailored to fit the high demands of an active lifestyle. Our Hybri straps feature a smooth silicone underside, which is not only comfortable but water and sweat resistant as well - allowing the user to focus on their workout or activity without having to worry about perspiration or discomfort. On top of that is a durable and stylish leather upper layer which not only looks great but will last as long as the wearer!
Mona Hybrid Sports Strap
Mona hybrid workout straps are another great companion for your workouts and activities. Unisex by design, the Mona strap also features a sweat and water resistant silicone under, combined with a flat-grain leather upper - bringing you a super resilient strap that has your back no matter what the outfit or occasion.
These straps have been made purely for active lifestyles and escapades, built to withstand the elements and strains that a workout or swimming session can exert on your Apple Watch and strap. That being said, both our Mona and Hybri straps are perfect for the gym, a work out or a night out! The water and sweat resistance of these bands means that not only do they look great but also feel sleek and comfortable, allowing your skin to breathe through whatever activity you choose.
Stainless Steel Milanese
If you're looking for something with a bit more stage presence for your Apple Watch Ultra, perhaps for a fancy night out, then we'd like to introduce you to the stainless steel Milanese strap by Buckle and Band. We worked closely with Germany's leading manufacturer of stainless steel straps for various Swiss watch companies (including Breitling) to create this one of a kind beautiful stainless steel strap. If you're a fan of expensive watch brands, this may be the strap for you - it perfectly matches the titanium casing of the Apple Watch Ultra and helps to accentuate that shining silver quality.
While this strap costs a bit more than our previous straps, the quality speaks for itself and for a chunkier watch like the Ultra, a thicker strap like this is the perfect companion. We just wouldn't recommend taking it on a hike up a mountain, or a deep sea expedition!
All of our Buckle and Band straps are fully compatible with every series of Apple Watch and Apple Watch Ultra as well, so grab your own today!