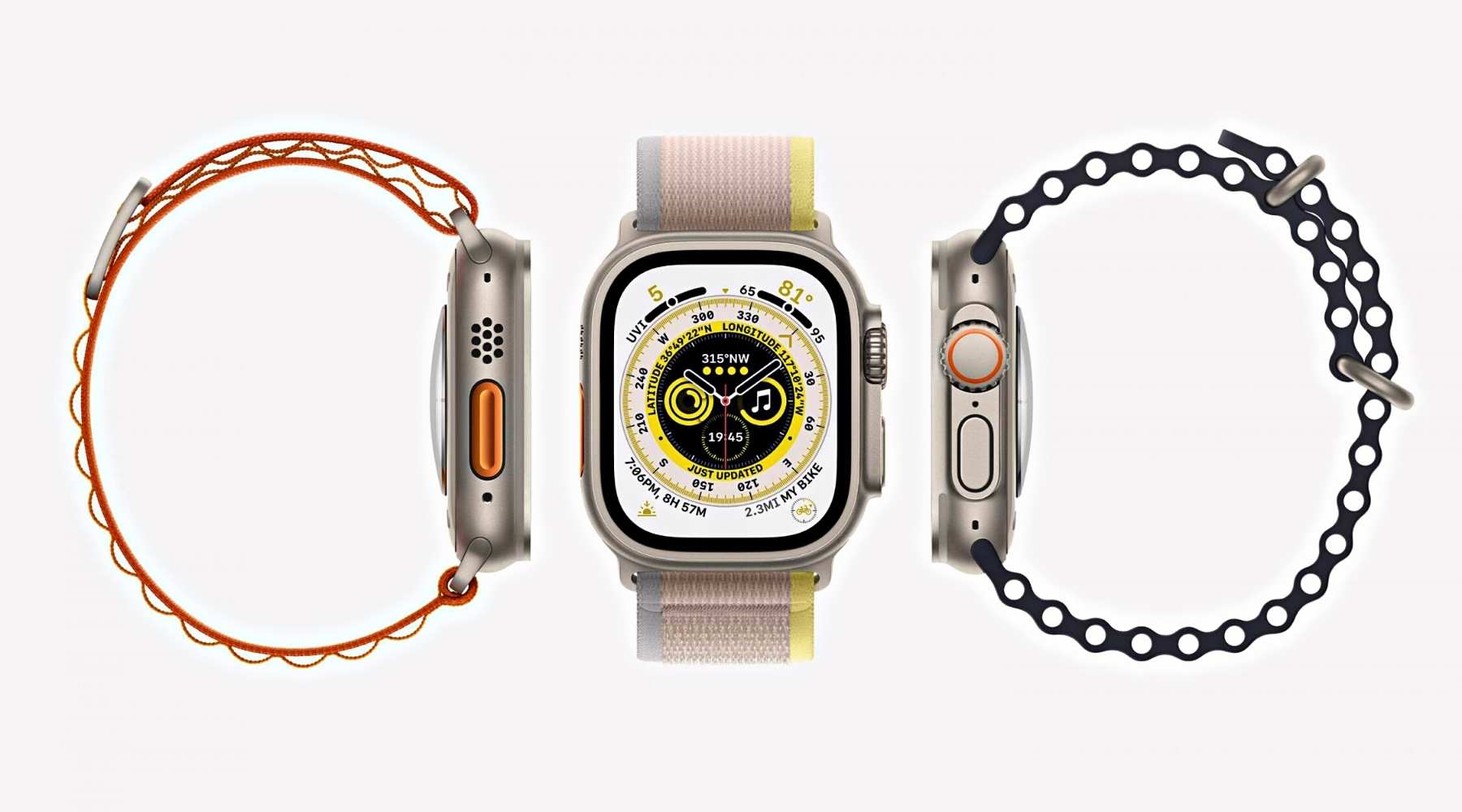 APPLE WATCH ULTRA UNBOXING & FIRST IMPRESSIONS 🍏⌚
Here at Buckle and Band HQ, we've managed to get our hands on the brand new Apple Watch Ultra, and we're super excited to give you a little unboxing/Initial impressions experience, as well as go through some of the super cool new features. So let's jump in!
First impressions
Upon opening the box you're greeted, as per usual, by an amazingly sleek and well-designed inner sleeve made entirely out of paper/cardboard. One of the many things Apple are very good at is getting their packaging spot on in terms of eye-catching designs. The image on the front of the user manual/brochure is a snowy mountain peak, evoking connotations of extreme sports and making me want to put on an extra layer of warm clothes!
The user manual itself provides information on things like charging, changing straps, the watch design, features, different clock faces and what they all mean, as well as the different sports straps that are available for it. This manual seems to go into more detail than previous Apple Watch Series 7 and 8 manuals (probably because this Watch has so many more features to behold)
The Apple Watch Ultra loop
The Watch and its strap come in two separate boxes so we're going to look at the strap first. We went for the green Alpine loop, which comes in quite a large box for a strap of its size, especially compared to the thin, rectangular boxes that the previous Apple Watch Series 7 came in. Our first impressions of the strap are that it has a bit of stretch to it, which might not be a bad thing, especially if you're in the midst of extreme activities, you'd want a little bit of give in your strap to allow for movement and comfort.
The strap features little material loops on it, which allow you to hook the buckle into them once you've fixed it to your wrist. This means that the buckle won't hang loose and get caught on things as you go about your thrill-seeking business! The Alpine green strap isn't exactly waterproof, so it might not be the best option for anyone who plans on taking their Apple Watch Ultra on a snorkelling or diving excursion. You'll also be glad to know that previous Apple Watch straps will fit the Apple Watch ultra (So you can continue expanding your Buckle and Band strap collection!)
The Apple Watch Ultra
Okay we've teased you enough, let's get into the main event: The Apple Watch Ultra! Again, the box is much bigger than previous Apple Watch series but then again; so is the Apple Watch Ultra. In the videos we've seen on Youtube, people seemed surprised by how light the Ultra is, however we're quite the contrary. The first thing that struck us was how weighty the Ultra is compared to the previous models, it's quite a bit thicker and chunkier than the Series 7 stainless steel but that's because it has more features available.
The digital crown is a lot thicker than the Series 7/8, and has more pronounced ridges on it for better grip and easier operation, especially if the user is wearing gloves or underwater. The same goes for the side button, it's more pronounced and easier to press if you're wearing gloves. On the other side of the watch we have the brand new orange action button, the function of which fully customisable and allows users to instantly begin a workout, set a waypoint on their compass, move to the next interval of a workout, or the next section of a multi-sport workout.
Along with the Apple Watch Ultra, we have the charging cable which features the new Apple magnetic FastCharger charging puck. It comes in a cardboard cover for protection in the box, all you have to do is unravel it, plug it in, place your Apple Watch on top and it'll start charging. Unlike previous Apple Watch (and iPhone) charging cables, the Apple Watch Ultra's cable is braided, meaning you can say goodbye to the days of those rubber cables that gradually wear down and break over time, forcing you to buy another one, only for the same to happen! On the subject of charge, the Apple Watch Ultra now brings you a whopping 36 hours of normal use, and around 60 hours in low power mode! When compared to the Series 7 which provided around one day of charge, that's an incredible step up!
New Watch Face
So let's take a look at the brand new Apple Watch Ultra face that everyone is talking about - The Wayfinder face! This interesting new face is specifically designed to give the wearer the most important bits of information regarding their run, hike, climb, swim or dive. The Wayfinder face features a tonne of complications and customisable features, that are specifically designed for the outdoor adventurer. These include the Bezel, which provides the wearer with such information like latitude/longitude, elevation and incline, depth (for underwater activities) as well as a real-time compass which will rotate as the wearer moves around. The watch also allows you to create compass waypoints along your journey so you'll always be able to find your way back to base!
Firstly, the screen on the new Ultra is quite a bit brighter than the previous Series 7, which is great if you're out in the wilderness and the sun is shining brightly. When turned, the new digital crown will turn the face to a darken screen and the watch face design will turn a neon red colour. This adjustment is perfect for reducing eye-strain, or if you're in low-light conditions, maybe you're camping out at night somewhere, or diving in low visibility and don't want to be blinded every time you gaze at your Apple Watch.
 And so that's our unboxing and first look at the brand new Apple Watch Ultra! Be sure to stay tunes for our in-depth review coming soon, along with plenty of hidden tips, tricks and hacks to go with it! Have you bought an Apple Watch Ultra? If so, what are your thoughts on it so far? Let us know in the comments below and be sure to check out our Buckle and Band Youtube channel for more Apple Watch tips, tricks and reviews!