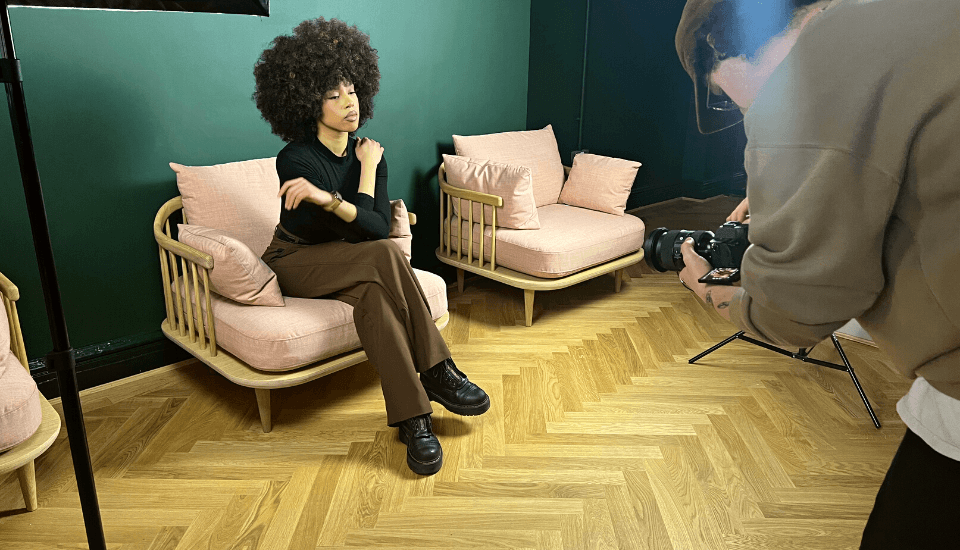 Buckle and Band's February 2023 Photoshoot
 February was a busy month for us! We had a lot of orders going out all over the world, we launched our new #BuckleUnboxed monthly giveaway and on Tuesday 21st we undertook our first professional photoshoot with two models, Alex and Zoe - Instagram: @alexsnelll @_zfemi - Dare we say, the results are pretty impressive!
We wanted to organise a shoot that would show off the elegance and sleek design of our straps in the best possible way, so we planned it extensively in the weeks preceding the shoot, in order to get the best possible results. We looked into everything from locations, poses, outfits and colour themes to which products we wanted to show off the most. The weather certainly presented an uncertain, ever-changing challenge for us in the weeks before (this is Manchester, England after all!) But we overcame the odds and managed to stay dry!
We were lucky enough to have access to a beautifully coloured and furnished meeting room within our office's building and so we made use of the space (and warm radiators!) to get some indoor shots. We wanted to recreate a casual living space, so we made use of props such as Vinyl records including Fleetwood Mac as well as our own elegant laptop and iPhone cases.
We then headed out into the uncertain Manchester elements! We had already planned out the route that we'd be taking for the day, so we embarked upon our journey. Working in the centre of Manchester we're all quite familiar with it's many twists and turns of backstreets and little hidden gems, so we made good use of as many as we could! The Stock Exchange Hotel was one of our first stops on our trip - a grand looking building with shining white walls. It was perfect for some close up and wide angle shots of the model, Alex.
We wanted to show off not only our straps, but our casual accessories like our leather card wallets and iPhone 13 cases - Things that would be used in everyday applications, and we think that both models did perfect jobs showcasing them.
 After a few more shots, using the fronts of buildings for their extravagant designs and architecture, we headed onto St Peter's Square and Manchester library. The iconic arches at the front were a must-have location for us, we wanted to capture the essence of British culture and architecture as we're a British brand, and this location was perfect! Next to the library arches was two classic retro red telephone boxes which were perfect for our shoot!
We were blown away by the professionalism and sheer talent of Alex and Zoe throughout the day! We carried around a list of poses with us on an iPad that allowed us to quickly show the models which pose we were looking for, this made the whole process a lot easier and smoother. We continued around the Manchester library building, making sure we used as much of the scenery as we could. Some tracking shots of the models walking and showing off their products were taken at the library walk, in between the library building and Manchester town hall.
After this, we continued on to the iconic Midland Hotel. This building, dating back to 1903 is a staple of the historic Manchester skyline and architecture, so we had to include it in our shoot. The entrances and doorways provided the perfect scenery and lighting for some shots, the tiling and stonework on the walls and stairs just radiate high quality and luxury, which is exactly what we needed!
 After the Midland Hotel, we headed on to our next location which we were quite excited to capture: The Peveril of the Peak! This is an iconic Manchester pub with a lot of history to it! Dating back to the early 1820s, this pub has stood through 2 world wars, even acting as a lodge for soldiers during world war 2. Probably most well known for its bright and eye-catching tiling on the outside of the building, which is why we wanted to capture it in our shoot! The bright tiling and the colour scheme provided the perfect backdrop for our models.
After the Peveril, it was time for a quick coffee break and to get out of the unrelenting, chilly February weather (This is Manchester after all!) So we re-charged our batteries with a nice hot coffee. After we'd warmed back up, it was time to grab some final shots with Zoe. Once again we'd arranged the furniture in our office's communal space into our desired layout and Zoe did her thing amazingly! We wanted some final product shots as well as wide angle shots which show the whole model with the straps on.
 The final location of the day was Barton Arcade, another historic Manchester building with some beautiful Victorian architecture. Originally built in 1871, the Barton Arcade mainly features glass and iron structuring and is an ideal location, the backdrop provided the perfect scenery for our final shots and Zoe delivered brilliantly in her work.