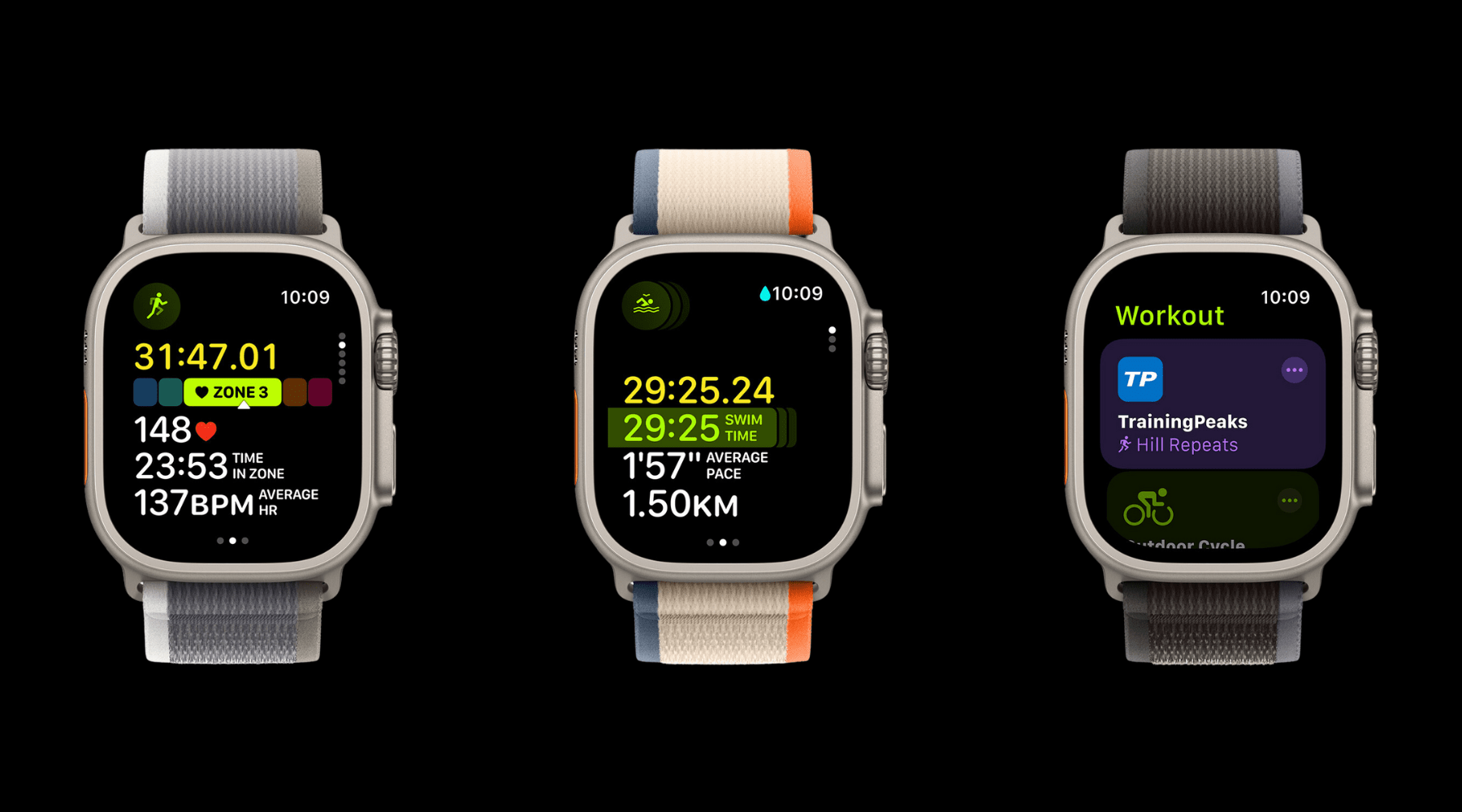 Exploring the New Apple Watch Ultra Two: What's New?
Along with the exciting announcement of the brand new Apple Watch Series 9 at the September Apple event, Apple have also unveiled the new Apple Watch Ultra 2. Powered by the brand new S9 SiP, it improves upon the first generation Ultra with all new brightness display, Double Tap functionality and bluetooth connectivity. So let's take a look at it!
The Apple Watch Ultra took the world by storm when it was first announced in September of 2022. The first Apple Watch to be created specifically for outdoor activities and extreme sports - with it's rugged design and chunkier chassis that's made to take a beating and withstand the pressure, literally! From tennis, to rock climbing, to hiking and even scuba diving the Ultra V1 was a step forward in Apple's innovation. With all the features packed into the Ultra Series 1, it seems difficult to imagine anything that they could add or improve upon - But Apple is Apple and they don't employ some of the top technological mids for nothing!
S9 Chip (SiP)
The biggest change to the 2023 Apple Watch models is the all-new S9 chip, or SiP (System in Package) which boasts a massive performance upgrade thanks to its 5.6 billion transistors, a 30% faster GPU as well as 4 core neural engines that can power machine learning twice as fast as the Apple Watch Series 8. 
Double Tap
The huge feature that's being talked about at the 2023 Apple Event is the introduction of Double Tap - being able to control apps and features on the watch by simply tapping your index finger and thumb together. This action will be able to control the main functions within the app that's being used, allowing the user to answer and end phone calls, turn off alarms, start and stop timers, launch widgets and control workout settings. Double tap will also open up the smart stack on the watch face and another double tap will allow the user to scroll through the widgets.
The new action allows users to use their Apple Watch when they may only have one hand free. The example that Apple used in their promotional video at the Apple event 2023 was a rock climber hanging off a cliff and answering a call on their Apple Watch Ultra by using the double tap feature. Double tap is powered by Apple's advanced new faster neural engine which takes and processes data from the Apple Watch's accelerometer, gyroscope and the optical heart sensor with an all new machine learning algorithm. Apple have stated that the algorithm detects the unique signature of tiny wrist movements and any changes in blood flow whenever the index finger and thumb make a double tap gesture.
The double tap feature won't be available immediately, but via a software update in October of 2023.
Other features
On-device Siri now means that users of the Apple Watch Ultra 2 can now place waypoints via voice control, even if they don't have any connectivity. Allowing for greater tracking and ability to find ones way when they're out and about, perhaps on a hike or out for a run.
On top of that, Apple Watch Ultra users who enjoy activities such as cycling or diving will be glad to know that Apple have made some notable improvements in these areas. The Apple Watch Ultra 2 will now connect via Bluetooth to power meters, cadence and speed sensors for cyclists, allowing them to access new metrics and workout views, and improving their cycling workouts.
Meanwhile for divers, the built-in depth app will now save a log of each dive for users to review their most recent sessions either on their Apple Watch Ultra 2, or view their complete history of all dives with a GPS entry point on the fitness app for iPhone. The Apple Watch Ultra 2 is (of course) waterproof, but also dive certified up to 100 meters, or 40 meters for recreational diving. The in-built depth gauge provides realtime depth and water temperature readings up to 40m
Apple have worked closely in partnership with renowned underwater pioneers Huish Outdoors for the Ultra 2. The Oceanic+ app for the Ultra 2 turns your humble watch into a full-blown dive computer - whether you're recreationally snorkelling, scuba diving or freediving down to 40 meters, the app provides all the core features that any professional diver would need. Including a safety stop monitor for decompression stops along the trip back up to the surface (very important for avoiding the bends!)
Design and Display
The Apple Watch Ultra's 49mm flat display screen certainly stands alone when compared to every other Apple Watch on the market. The 2nd Gen AWU continues this rugged and sturdy look, built with heavy a duty titanium casing that's designed to last through whatever outdoor challenges are thrown at them.
While the visual design of the Apple Watch Ultra hasn't changed since last year's 1st gen, Apple have certainly made some tweaks on the software side of things. One of the biggest changes to the Ultra is the new display which boasts a maximum brightness of 3,000 nits! This is 50% brighter than the 1st generation Apple Watch Ultra, and 1,000 nits brighter than the latest Apple Watch Series 9! This is the brightest display that Apple has ever made (apparently) and makes it easier than ever to see the display in bright outdoor settings. This comes in extremely handy when trying to read a map or follow directions in bright sunlight, but for low light settings, the display can go down to as low as 1 nit so as to avoid eye strain or disturbance to anyone close by.
In terms of the display, Apple has introduced an all new modular display exclusively for the Apple Watch Ultra face, it uses the edges of the display to provide the user with even more information at a glance. This includes real-time data processing like passing seconds, altitude or depth when diving. Just like the current wayfinder face for Apple Watch Ultra, it can be turned into "night-mode" which darkens the screen and introduces a red and black colour scheme for better visibility in the dark.
Performance
In terms of performance, this is really where the Apple Watch Ultra 2 comes into its own, especially when compared to the first generation. Just like the new Apple Watch Series 9, the Ultra 2 contains Apple's all new S9 processing chip (their first new processing chip since the Series 6 Apple Watch) as well as the new ultra wide band chip, which allows for better precision for finding iPhones. Precision finding provides distance, directional, visual, haptic and audio guidance to a misplaced iPhone, but it's not universal. It will only work with certain models of iPhone that include the new U2 chip.
The Apple Watch Ultra 2 also contains the new 4-core Neural Engine that can process machine learning tasks up to twice as fast as the original Apple Watch Ultra. So whether that comes to flicking between multiple apps in rapid succession or installing brand new ones, the Apple Watch Ultra 2 is expected to be much faster and responsive than the 1st generation (which was already pretty darn fast!)
Apple has also stayed with the 36 hours of battery life for the Ultra 2, which can be extended to 72 hours in low power mode - same as the Ultra 1. This is still more than any other Apple Watch on the market.
What do you think about the new Apple Watch Ultra 2? Do you have the first generation Ultra? If so then what do you think about the changes and updates to the model? Let us know in the comments below!