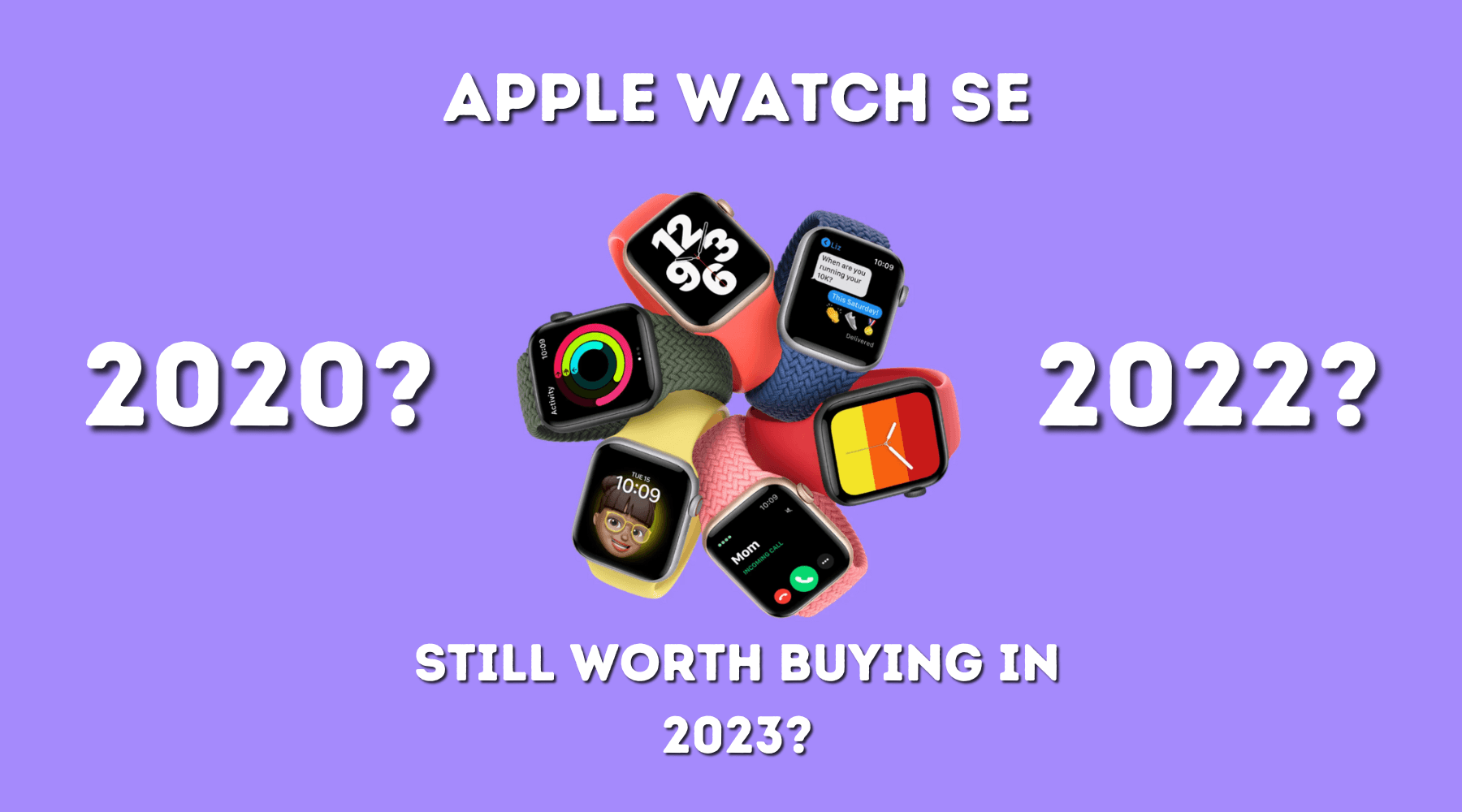 Is the Apple Watch SE Still Worth Buying in 2023?
Since its release in 2020, the Apple Watch SE has been a favourite amongst Apple fans and Smartwatch users alike - providing a brilliant compromise between cost and functionality. It lies in the middle ground between the aging Series 3 and the newer lines of Apple Watches, but Apple decided to release a newer line of SE models, and they feature characteristics taken directly from the Series 8!
We're going to go over some of the features within the Apple Watch SE and help you to decide whether it's worth purchasing the newer model, or if it's better to pick up the older SE model while it's still on shelves, or even in used condition.
Tech Specs
Let's start off with the tech specs of the two SE models (2020 vs 2022) and talk about some of the similarities that they share -
Display - Both Apple Watch SE models use a  display on both the 40mm and 44mm sizes 
Weight - 2022 SE weighs 27g for the 40mm and 33g for the 44mm / 2020 SE weighs 30.7g for the 40mm and 36.4g for the 44mm
 
Apple Watch SE (2020)
Apple Watch SE (2022)
Display

324 x 394 pixel Retina LTPO OLED

324 x 394 pixel Retina LTPO OLED
Weight

40mm - 30.7g 
44mm - 36.4g

Processor
S5 chip (identical to the Series 5 chip)
S8 SiP chip (modified version of the series 8 chip)

Storage

32GB
32GB
Battery
18 hour lithium-ion battery
18 hour lithium-ion battery
Sensors

GPS, altimeter, optical heart sensor, accelerometer, gyroscope, ambient light sensor

GPS, altimeter, optical heart sensor, accelerometer, gyroscope, ambient light sensor, high-G accelerometer

Connectivity

Wi-Fi, Bluetooth 5.0, LTE (GPS + cellular model only)

Wi-Fi, Bluetooth 5.0, LTE (GPS + cellular model only)

Cases, Materials, Colours

Aluminium: Space Grey, Gold, Silver

Aluminium: Midnight, Starlight, Sliver

IP Rating
Water resistant to 50 meters
Water resistant to 50 meters
Prices
Starting at $200
Starting at $249
You should buy the 2020 SE if...
You want the cheapest available modern Apple Watch - Prices for the original 2020 Apple Watch SE are now already lower than the release price for the 2022 SE model, and they're certain to keep dropping with time. You can pick yourself up a tried, tested and loved Apple Watch SE 2020 (only 3 years old!) for around $200, possibly even less! This is of course subject to availability - you could pick up a used model as well, which would bring the price even lower if you're willing to accept an Apple Watch that isn't "brand new"
You like the Space Grey or Gold colour tones - Apple stuck with the silver colour tone for their updated Apple Watch SE in 2022, but the loved Gold and Space Grey colours have been phased out to make way for their Midnight and Starlight colours. This may seem like a minor or even insignificant detail to some, but perhaps you have a Gold or Space Grey iPhone and you'd like to match the themes. In this case, the Apple Watch SE (2020) is the choice for you.
You're looking for an Apple Watch with less features - If you're intimidated by all the crazy features packed into the Apple Watch, maybe you just want a smartwatch that you can send the occasional message from and track some runs. The 2020 SE is a great compromise between super useful tech/features and simplicity
You should go for the Apple Watch SE (2022) if...
You want the most up-to-date, yet budget-friendly Apple Watch - The S8 chip inside the Apple Watch 2022 is basically the same chip used inside the Series 8 Apple Watches! According to Apple, this means that the 2022 SE performs 20% faster than the original SE, and almost as fast as the Series 8 Apple Watch! When you take into consideration the price difference between the latest Series 8 Apple Watch and the latest SE, this makes the latest SE an absolute bargain! Especially when you consider that the top-end $800+ Apple Watch Ultra uses this very same chip!
You want to keep track of your family's safety - As well as sharing the same processor chip, the 2022 SE and the Apple Watch Ultra also share Apple's new high-G accelerometer chip which enables Apple's lifesaving Crash/Fall Detection feature. This feature allows the Apple Watch to detect a sudden fall or automobile crash and immediately contact emergency services and the wearer's family after a short amount of time if they don't respond to the emergency notification shown on screen. There are already countless stories online (and a few blogs from us!) from people's whose lives have been saved by this feature, and Apple's decision to bring this feature to their less-expensive Apple Watch models means that you don't have to dish out hundreds of dollars in order to get the peace of mind that it provides.
You're a runner, hiker or outdoor enthusiast - The Apple Watch SE (2022) supports Apple's compass app, along with the new tracking and waypoints feature. This means that you can set out your own guide points and markers when out and about, as long as you have a stable GPS signal. This is great for fans of the great outdoors or those who just like an extra dosage of peace-of-mind when out camping or walking through nature. Also it means that you can drop a pin at your car so that you can easily find it later on! The future truly is now!
Do you own an Apple Watch SE? If so, we'd love to hear your thoughts on it! Let us know in the comments below and be sure to stay tuned for more Apple Watch news.