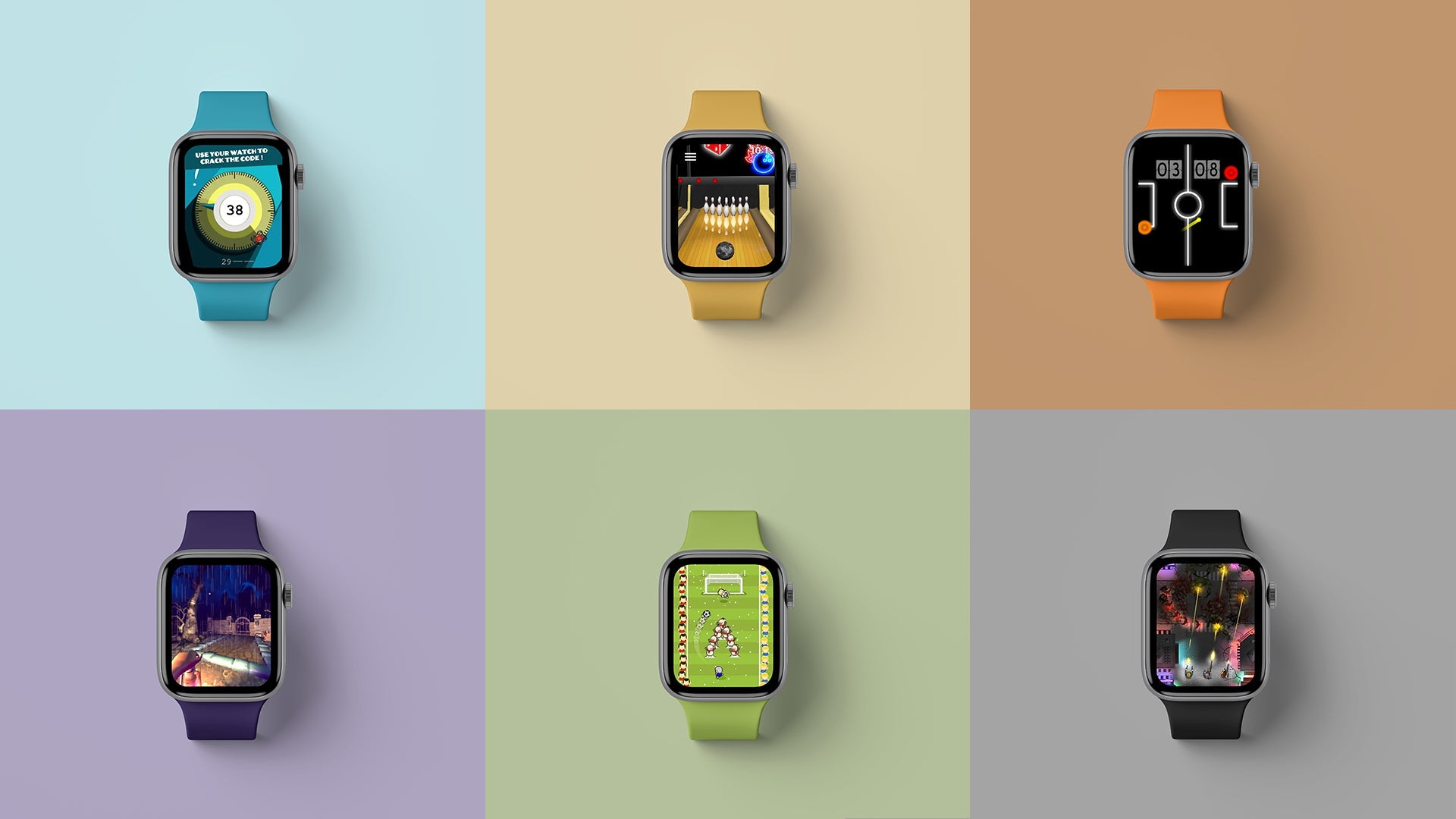 Top 10 Best Apple Watch Games 2022
When we think of the Apple Watch it's the fitness tracking, health monitoring and GPS features (as well as the overall convenience of receiving notifications and alerts straight to your wrist) that tend to jump to mind. Whilst these are, undeniably, the best and most sophisticated aspects the Apple Watch has to offer we often look past this little device's potential to be a source of fun! With this in mind we've spent the last week trying out some of the most played, and highly regarded, Apple Watch games and narrowed them down to make a list of the ten games that we consider to be the must-haves on the market right now. Enjoy!
Vegas Bowling Lite [Free]
Straightforward, responsive and with rather impressive graphics for a mini-game; Vegas Bowling really got us hooked! We tried out the lite version which the developer, RESETgames, says 'plays shortened 3 frame games' but you do have the option to 'upgrade to the full version for 10 frame games'. Despite this we had a blast getting to grips with the controls and getting our first strikes in the free version. Play solo mode or put your money where your mouth is and gamble varying amounts of cash against a choice of four opponents of increasing difficulties. Use your Apple Watches digital crown to apply some spin and then pull back and release to send your ball hurling towards pins.
Touch Round Racing [Free]
Get ready to unleash your inner Vin Diesel because next up is Touch Round racing! If you're anything like me you're going to need a bit of practice with this one. Burn some rubber using the digital crown to steer and drift your way around a selection of tracks and then sync the app with your iPhone to upload your track-time to the global rankings. 
Soccer Dribble Cup [Free]
My personal favourite of all the games we tried out - aside from the blasphemous use of the word 'soccer' instead of 'football' - but this is something I'm willing to look past due to the sheer enjoyment this little game gave me. In the words of the developer the game has 'only three rules; dribble through all defenders, reach opponent goal, shoot to score!' And there's not much more I can add to that other than that, like any good game, the difficultly increases level by level and you collect coins as you go. I loved the retro arcade graphics and soundtrack as well as the choice to utilise both the touchscreen and digital crown for a fully immersive experience.
Zombie Overkill: Halloween War [Free]
We couldn't make a list of Apple Watch games without including a good old shoot-'em-up! Due to the limits that come with its size and overall purpose most Apple Watch games will be very simplistic 2D looking games and whilst this isn't necessarily a bad thing it is quite refreshing to see an arcade-style top-down-shooter game with impressive graphics and overall game design. The objective of the game is fairly simple; SURVIVE! Hold your post at the cross roads and use either the touch screen or the digital crown to aim your stream of bullets at the oncoming barrages of the undead. Complete missions, that increase in difficulty, to earn some coins to spend on upgrading weapons or to call in back up when things get a bit overwhelming. Let us know how far you got in the comments below!
Lifeline... [£2.49] & Lifeline 2 [£2.49]
Although we, of course, highly recommend all the games on this list there's only so much drifting and heavy artillery one can take in a single instalment so if your looking for something with a bit more depth then we strongly recommend the highly-immersive Lifeline games. This is a truly creative text-adventure game that will keep your eyes glued to your wrist as the lines between reader and character become beautifully blurred. After some initial scepticism we played the first instalment for ourselves and after quickly becoming gripped by the riveting twists and turns of David Justus' plot it's no surprise that it hit Number 1 in the Top Paid Games on iPhone and Apple Watch. We think it's well worth the price and would love to hear your thoughts! 
Pocket Bandit [£0.89]
Another game that's accumulated some heavy praise within the tech industry is Pocket Bandit. A rather simple concept of cracking as many safes as you can in order to steal their hidden treasure and avoid being caught by the cops to complete a successful heist. Highly regarded for it's use of the devices most distinctive features the game allows you to use the crown as a dial to navigate the arrow through the numbers of the combination lock, when your device starts vibrating you're near the right number which you tap on validate - if you're combination is correct the safe will burst open allowing you to take your spoils. Colourful, clever and fast-paced - what's not to like?
Ping Pong [Free]
The ultimate arcade 4-in-1 game! Simply put; it's classic Pong with cleaner graphics. But that's not all - as you play you can unlock other classic arcade games like Invader, Breakout and Jump in order to triple down on that nostalgia hit. Easily switch between game modes play and even play local multiplayer versus your iPhone; a great feature for long car journeys with friends or family!
Mindkeeper: The Lurking Fear [£1.79]
If you liked the Lifeline games then you'll love Mindkeeper! Featuring what are probably some of the most sophisticated graphics for an Apple Watch game Mindkeeper plays surprisingly well. A first person mystery game where you, the investigator, will navigate your way through a haunted mansion by eery lantern-light to collect gems, pass through portals, discover clues and complete puzzles in order to reveal the secret of the lurking fear! Atmospheric, challenging and mesmerising - we think it's well worth the price!
Trivia Crack [Free]
Nothing beats a bit of brain training by putting your general knowledge to the test against a real opponent! Challenge a random player online or settle the score with a friend or family member by creating a game and spinning the multi-coloured wheel to select one categories (entertainment, art, sports, history etc) and see who can get the most questions right and win a crown. The first player to six crowns wins and can choose to offer/accept a rematch. Hundreds of thousands of questions and the option to create your own prevent the game from becoming easy or repetitive and the time limit for each question keeps the intensity up to create an all round great competitive quiz style game!
We hope you've liked our selection of Apple Watch games and give some of them a try for yourself. If we've missed any out that you thing belong on this list please don't hesitate to let us know in the comments below!
Big thank you to Anthony Boyd Graphics for the Apple Watch mockup used in the images above.