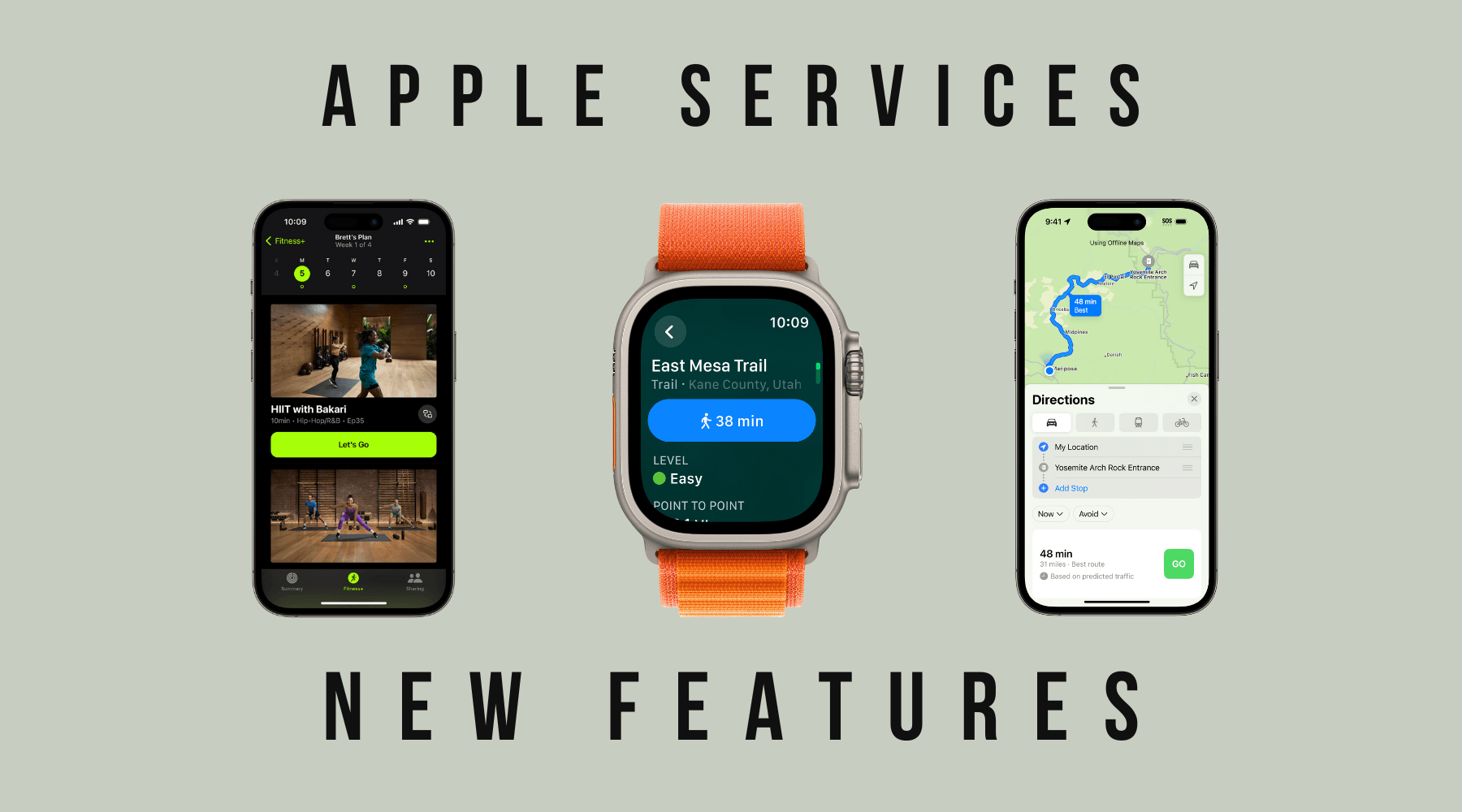 Apple Previews New Features Coming This Autumn
Apple's services have become world renowned and are used by millions across the globe every day for their work, leisure and entertainment - People are discovering new music through Apple Music, getting informed on current events through Apple News and Podcasts and navigating their way through the world with Apple Maps. Autumn 2023 will bring a plethora of new features and enhancements to Apple users, allowing them to discover, accomplish and enjoy even more on their favourite Apple devices. These new changes will be arriving in the forms of IOS 17, iPadOS 17, MacOS Sonoma, WatchOS 10 and tvOS17.
Eddie Cue, Apple's senior vice president of services, states "Apple's services enrich millions of users' lives every day, so we constantly strive to deliver the best experience possible. Not only do we want to make services more powerful for users, we also want to make them more fun. And I think the teams have done an incredible job with the lineup of new features we're delivering this fall, from collaborative playlists in Apple Music, to offline maps in Apple Maps, to new experiences in Apple Podcasts" It's clear that Apple are very proud of everything they've managed to achieve, and they truly strive to create the best possible experience for the user and consumer. Here are some of the new features arriving this Autumn 2023 - 
MUSIC
Collaborative playlists
Listen alongside family and friends with collaborative playlists. Apple Music members can collaborate on playlists with friends and family: Users can create open playlists amongst friends and family, inviting others to select, add and edit tracks, even adding emoji reactions to specific songs. Music sounds better when it's shared! 
Apple Music Sing With Continuity Camera
Using an iPhone as a camera, users can now enjoy an even more immersive and fun singing experience with Apple's Continuity Camera. Got a few friends or family round? Fancy a karaoke night? No problem! With Apple Music Sing and Continuity Camera, users can connect to their TV and see themselves onscreen as they sing along to all their favourite hits, even being able to apply all-new camera effects and filters. This will be a fun little addition to any music lovers' experience, and a great feature for parties/get-togethers.
Song Credits
Apple Music users can discover comprehensive information about the artists and musicians who performed on and contributed to their favourite tracks, including writers, musicians, their roles and what they played. This feature aims to shorten the degrees of separation between the artist and listener, helping them understand the process behind their favourite music and deepening their appreciation for the artists that they enjoy.
SharePlay in the Car
Apple Music is now bringing SharePlay to the four wheels, so that everyone can choose what song is playing on the journey. When users are on a car journey and listening with Apple Music, other trusted iPhones or Apple devices in the car will automatically suggest joining the session. Listeners will be able to control the music from their own devices, even if they don't have an Apple Music subscription.
MAPS AND LOCATION
Offline Maps
Apple users can now select an area on their device using Apple Maps and download it with just one tap of their finger. Once downloaded, users will be able to browse offline maps and take full advantage of turn-by-turn navigation for driving, walking, transit and cycling; see their ETA (estimated time of arrival) find places in maps and much more! Additionally, Apple is making it much easier to discover thousands of trails in parks and nature areas across the USA, providing such information like trail type, length, elevation gain and difficulty. This will be extremely useful for runners, hikers, outdoor-philes in general who won't always have access to a phone network (especially whilst hiking up a mountain!) Take a look at the preview of Yosemite National Park below
.                        
 Electric Vehicle Charging Availability
Apple Maps users who own an electric car will be thrilled to hear that they will now be able to see real-time data on nearby charging stations including distance, availability, charging network, plug type and more. Users with compatible vehicles will be able to appoint a preferred charging network.
Fitness
Build a Workout Routine in Custom Plans
Users can now build their own workout or meditation routine with Custom Plans in Apple Fitness+. Custom Plans is a new way for Apple users to create a workout or meditation routine that works for them. Custom Plans lets them select and personalise their preferences such as days, workout type/duration, trainers and music - all to create the perfect workout for them.
Stacks can be saved to a user's library to be used again in the future. Additionally, stacks will allow users to queue multiple workouts and meditations back to back for an uninterrupted transition between activities, which will allow them to maintain focus and motivation while they're in the zone!
Audio Focus on Fitness+
With Audio Focus, Fitness+ subscribers can choose to prioritise the volume of their music in order to stay focused and energised, or the trainer's voice so that they can focus on their workout and coaching.
Entertainment
Daily Crosswords with Puzzles on Apple News
Subscribers to Apple News+ are now able to enjoy even more benefits, including Puzzles, which will include a daily crossword and mini-crossword in collaboration with The Puzzle Society. With the introduction of this, Apple News+ will offer a fun and challenging way to engage and challenge its readers. Subscribers will be able to treat their brain a some good old workout as they test their problem solving skills and enjoy the daily satisfaction of completing a crossword puzzle. Each puzzle is professionally designed to provide a fun and intellectually stimulating experience for the user.
Crossword puzzles have long since been a form of entertainment and mental exercise, and now through expending their content, Apple News+ continues to provide a large and varied range a high-quality content to its subscribers. From news articles and magazines to audio stories and now puzzles as well, Apple News+ continues to cater and appeal to the wide and varied interests of its audience.
Audio Stories on Apple Podcasts
Apple News+ Subscribers will be able to listen to high quality and professionally narrated audio stories from the world's most popular magazines and newspapers within the Apple Podcasts app. The updated design will display an eye-catching and dynamic background that showcases a podcast's artwork, as well as providing users with enhanced controls for managing the queue. Users will also be able to connect eligible subscriptions to other top apps within the App store, including Bloomberg, The Economist, The Washington Post, The Wall Street Journal and many more!
New Series on Apple Books 
With Apple Books' new Series page, users can easily see all of the books that are available in a series, toggle between Ebook and audiobook versions of it, preview, purchase and read the next title in the series based on their reading, as well as this, Series will provide personalised recommendations for related series based on the user's reading history and preferences. This feature is great for discovering new series, genres and authors that align with ones own tastes and interests, allowing for new literary adventures and the expansion of knowledge or taste.
Recurring Payments With Apple Cash
Apple Cash users will now be able to set up recurring payments via their Apple Device - Users can schedule and automate regular payments, making it super easy to organise their finances and any recurring expenses. Payments can be set up weekly, bi-weekly or monthly, making it easier than ever to ensure their financial obligations are handled.
This has been designed in order to help simplify tasks such as parents paying allowances, paying back money for shared experiences with friends or making regular transactions for paying rent on time. By automating these transactions, users can eliminate the requirement to manually initiate a transaction every time a recurring payment is required. Not only does this save more time, but it also makes sure that the payments are met on time (or earlier) to avoid any potential delays or consequences.
Present ID using iPhone and Apple Wallet
Starting this autumn, businesses will be able to accept IDs in Apple Wallet, which will massively assist in their ability to securely check a customer's age for things like admission to a venue, bar, rental company or purchasing alcohol and more! In order to quickly and efficiently present their ID in a participating business, users would simply hold their iPhone or Apple Watch near the business's device - the requested information will be shown, along with whether or not the receiving party will store the user's information. Users will then authenticate and consent by either using Face ID or Touch ID
Share and request locations using Find My with Messages and Maps
Apple users will now be able to share their location with friends and family, as well as requesting someone else's location, directly through "Find My" in Messages with the new "Location" option in the send menu. Users can then also create a route to someone else's location using Maps. Additionally, item sharing for AirTags and any Find My network accessories will mean that users can invite up to five people into a sharing group, which allows for collaborative tracking between friends. Everyone in the group will be able to see the item's location and won't receive any unwanted tracking notifications. Members within the group will also be able to use "Find My" to get directions to the item, and use Precision Finding to help pinpoint a shared AirTag's location.
So what do you think of the latest updates to Apple's services? Did anything tickle your interest? Let us know in the comments below