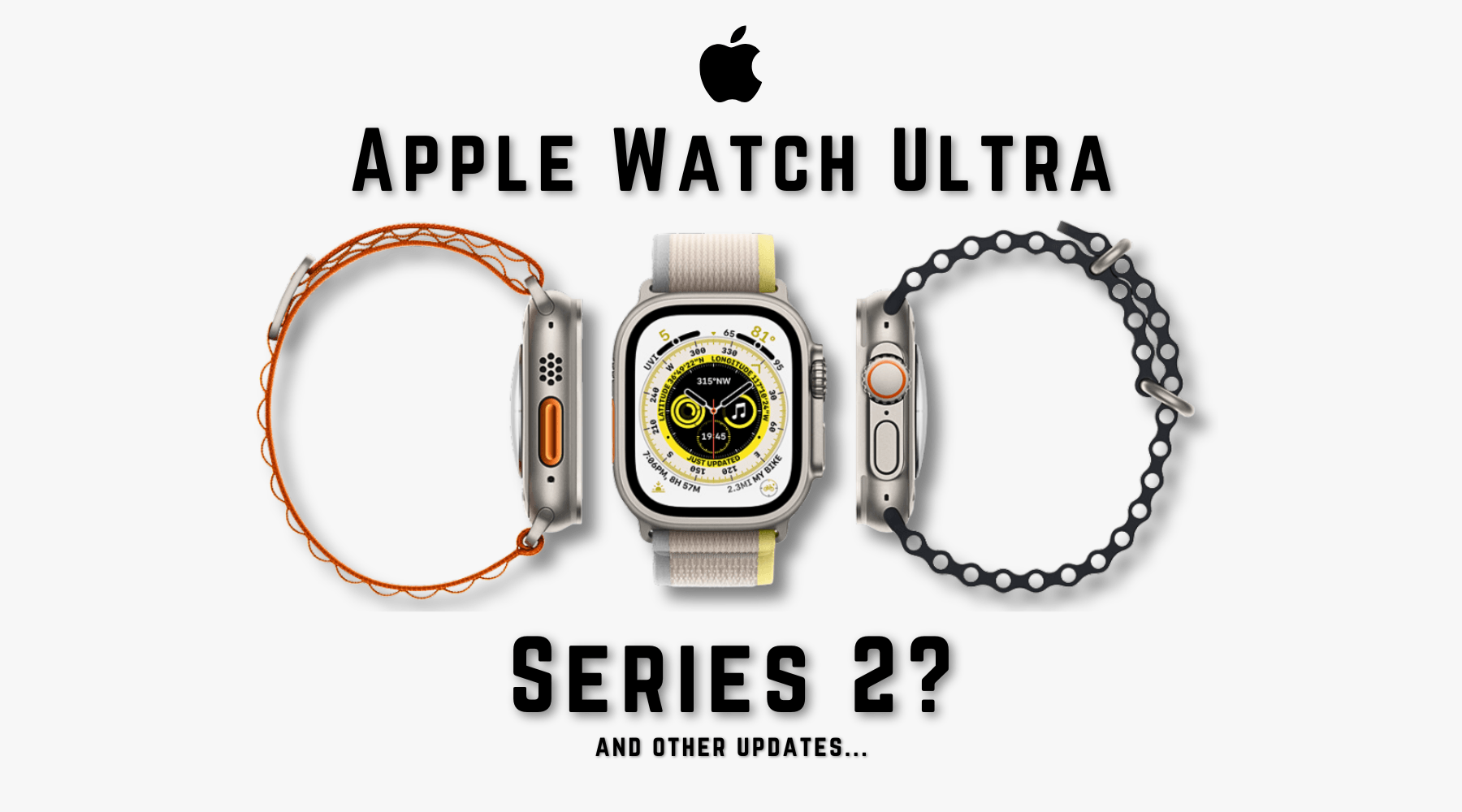 Is The Apple Watch Ultra Series 2 Coming This Autumn?
For anyone who held off on purchasing the Apple Watch Ultra when it first dropped, to see what the 2nd generation might bring, you might not be waiting much longer to find out! According to Bloomberg writer Mark Gurman, the second generation of the successful Apple Watch Ultra is expected to drop later this year, alongside the iPhone 15 lineup and not one, but TWO Apple Watch Series 9 models (The watches are reportedly codenamed N207, N208 and N210)
Previous rumours in the past had suggested that the Apple Watch Ultra would be on a very similar update schedule to the Apple Watch SE, which first launched in 2020 and received its first "refresh" in 2022 - the Apple Watch Ultra seems to be following a different pattern. The first generation Apple Watch Ultra was debuted in September 2022 along with the series 8 Apple Watches, and was initially believed to be refreshed and updated every two years because of its higher price tag and more durable design and build, in the belief that users of the watch would be less inclined to make the upgrade so often.
But of course, this line of thinking came with the earliest editions of Apple Watches back in 2015, as smart-watches weren't as widely popular as they are today. Audiences reasoned that expensive watches and garments are supposed to be heirlooms that can be kept and passed down for generations - but this notion doesn't exactly align with todays modern society and the rapidly changing and evolving technology that comes with it. This rings true for the iPhone, Apple Watch, iPad etc. whose technology and software becomes outdated and obsolete within a few generations of newer models being released (usually about 3-5 years). 
Apple seems to have realised the need for high-end and state-of-the-art technology and components within its outdoor smartwatch, leading them to release new generations of the Apple Watch Ultra annually, alongside its slightly more affordable siblings. The upcoming Apple Watch Ultra 2 is more than likely going to continue this movement to satisfy the demand for the latest cutting edge technology and design features. It would makes sense that whether someone spends $800 or $18,000 on a high-end smartwatch, they'd still want the latest and most up to date technology and components inside it, to match the shiny and flashy exterior. Because of this, it makes sense to have annual updates and refreshes for the Apple Watch Ultra - even if it's not the same users purchasing the product each year.
It's not currently clear what Apple will change about the Ultra, although rumours speak of a new S9 chip and a larger display. It's still important to remember that Apple's current plans for the September releases still aren't set in stone and could change at any time between now and autumn. But it's not just the Apple Watch Ultra 2 that Apple has in the pipeline for autumn 2023, the much anticipated iPhone 15 will likely been the main centrepiece of the September Apple event, as they are most years. We're also certain to get the Apple Watch Series 9 as well, but Mac, iPad and AirPods fans may have to wait until 2024 until their next update release (according to Gurman's sources)
In addition to Watches and iPhones, Apple are likely to address their progress on the Apple Vision Pro. While the product release will still be a long way off, even by this autumn, it'll be tough for Apple to ignore the elephant in the room. We're likely to hear some updates on the progress being made on the Vision Pro, which is looking to be the most groundbreaking release to come out of Cupertino since the original Apple Watch was released in 2015 (and arguable even since the first iPhone way back in 2007) As the year continues to progress, Apple enthusiasts can keep an eye out for more exciting updates and new models across the product ranges.
Apple's massive $5 Billion headquarters in Silicone Valley, USA houses their impressive and spacious Apple Park, where they hold their annual Apple events
What would you like to see on the newer Apple Watch Ultra? Would you purchase one if it came out in autumn? Let us know in the comments below and be sure to keep an eye out for more Apple Watch related updates.