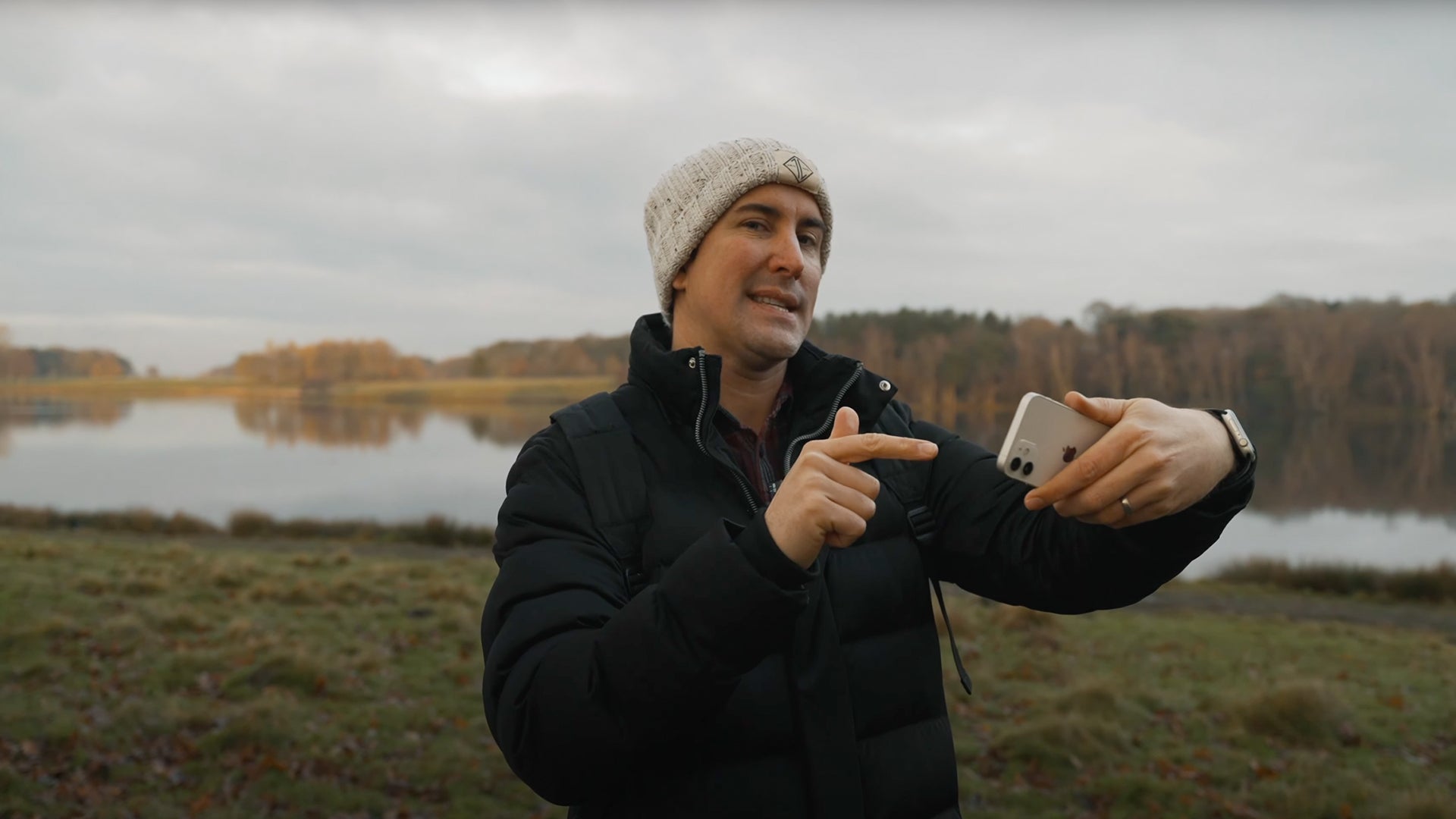 Tech Entrepreneur Predicts Apple iPhone 14 and Apple Watch 8 Announcement!
Just one day out from the highly anticipated September Apple Event I've sat down with tech-based entrepreneur and all round Apple enthusiast Mark Brown to ask him to share his thoughts on Apple Events of the past, their journey up until now and, of course, his predictions for the announcements in tomorrow's event. Mark is the Company Director of Editors Keys, and more recently Buckle & Band, and has therefore been working in and around tech, and physically producing highly regarded products and accessories for Apple gear, for over a decade now - so suffice to say - he knows his stuff.
What are your early memories of Apple products in general? 
"The earlier Apple products were amazing. Obviously, at the time, PC's were the standard and it was quite difficult to get your hands on a Macintosh (as they were known then) and I was the first person in my circle to get my hands on one and although it was a little bit slower than my friends PC's, and couldn't even run Microsoft Office, there was something really nice about it. The design was so sleek. All the PC monitors were a bit clunky and came with a huge tower so people couldn't believe that I had this new device that was an all-in-one. Its overall construction and the slimness of its monitor were really ahead of its time and it really stood out amongst its competitors. Now that I think about it, the monitor wasn't a huge deal thicker than some of the ones now and it had the CD drives and everything!"
What were the earlier Apple Events like and do any in particular spring to mind?
"I remember when Steve Jobs announced the release of the very first iPhone. There had been rumours for months that it would come out and before that we really just associated Apple with iPod and Macintosh. But when he came out with the iPhone it was just so groundbreaking. I remember a demonstration of something as simple as the pinch-to-zoom feature and me and my friends were just blown away by this sort of user experience. Touchscreens had been about before but not like this. As I understand there's two types of touchscreens; resistive and capacitive. Resistive was the standard at the time and they had this plasticky feel to them and you had to physically push down on the screen for the press to be registered so any touchscreen phone I had before the iPhone was actually quite frustrating to use. When I saw these features demoed by Steve Jobs himself it was unbelievable to see and when I finally got my hands on one I was very pleased to say that it worked as good as it looked. Nothing was laggy or juddery like I'd been used to. All these functions and movements like pinch-to-zoom, swiping between photos and app pages and even just scrolling through your music library were so smooth and receptive you could just tell that Apple had really thought about things in a way that no one had before."
Since then, with the passing of Steve Jobs and countless releases and announcements, how do you feel the events have evolved?
"I still enjoy watching them. Admittedly, I think the magic has gone a bit. Steve Jobs was a one-in-a-million kind of guy so it's hard to match that level of enthusiasm. Also, as I've been watching since the early 2000's, there was this period where each product Apple released had simply never been done before. The all in one desktop, the iPhone, the iPad etc. These were things that just hadn't existed and if a simplified version of them had they just weren't properly functional or accessible to the masses. So, naturally, after years of these unprecedented releases, time catches up and the focus shifts to tweaking and improving upon these now-renowned staples of the brand. Unfortunately more recently - and you'll know from me moaning about this in the office, Rob - the MacBook Pro's of the last five years just weren't that good and they actually lost elements innovative functionality that Apple became known for. The introduction of the TouchBar, the infamous butterfly-switch and the heavy focus on slimming everything down arguably brought about a decline in the standard of these products and it was then very hard to justify the price tag that came with them."
Has this changed in more recent years?
"Yes. Thankfully Apple seems to have gone back to the drawing board and focused on the fundamentals. The return of the physical f-row keys on the MacBook Pro, its slightly more robust construction and the power of the M1 and M2 chips have been very well received. It had gotten to a point where I wasn't enjoying video editing anymore. It was a slow and clunky experience which took away the actual joy of it as a hobby for me and using it almost became a hindrance but now, with the improvements Apple have made, the speed and sophistication of these machines have brought the joy of editing and generally using a MacBook back again. As for the Apple Watch; I wasn't too excited about it when it was first released but as the years have gone on it's clear they've really refined it. The battery has massively improved, the waterproofing is great and the actual development of the design has made the Apple Watch look less like a small, fiddly computer screen that sits on your wrist to a smartwatch in its own right. In recent years the Apple Watch has finally come of age and I don't think I could easily give mine up at all! Is these improvements to their products that have made the Apple Event much more exciting again." 
Now the big question; what do you expect from tonight's announcement? Let's start with the iPhone.
"100% we'll see an iPhone 14. The notch at the top of the screen is supposedly going to be decreased in size and made into more of a pill shape but aside from this there haven't really been too many reliable leaks about what we can expect to see. I've been using the 13 Pro since its release and as it's such a solid and well-rounded model I can't see them changing too much. It may just be a matter of improving upon the features that the 13 Pro currently boast; a little bit quicker, colours may pop a little bit more, camera might be improved upon slightly etc. I love my 13 Pro and can say it's been the best iPhone I've had in years. I love the ultra wide angle lens - it's the most impressive lens but is also the worst when it comes to quality so an improvement to this and the cinematic mode reaching 4K would be very much appreciated. This will, of course, be quite demanding so the battery life will have to be up to it. I also hope the minimum memory capacity will be whacked up to 256GB so I'm not hit with an extra charge to upgrade to a capacity that I feel is needed to actually get the most out of the phone. Aside from this I feel like if you have one of the iPhone 13 models you probably won't need to upgrade but who knows, Apple often surprises us and may prove me wrong! 
And for the Apple Watch?
Yes, as for the new Apple Watches; again, there's not a great deal of leaks that I'd consider to be worth looking into. The overall design hasn't changed in a while so a lot of people think we're due a drastic design change but this is highly debated within the community. We're supposed to be seeing the release of a more hardy 8 Pro or 'Rugged' model that's built from titanium and features more physical buttons on the exterior of the watch for the convenience of those who use the Apple Watch in more trying conditions. This looks like it will come with a hefty price tag and unfortunately for us may feature new watchband dimensions! Aside from this I can see the more budget/baseline models like the 4 or SE being updated. I think the Apple Watch differs from the iPhone in the sense that you can have 4,5,6 or 7 and they all still stand up to the task relatively similar and the older models aren't made obsolete as quickly so you don't need to upgrade every single year which I think makes sense with a smartwatch"
Finally, as you've followed Apple for some time, how do you think they're currently fairing against their competitors?
"I think the recent improvements have made a huge difference. A close friend of mine is an android user and we've had many debates when comparing our devices and justifying their costs. Before the improvements we spoke about it was a very close competition and the Android/PC devices at one point were definitely edging Apple. This was clear when loads of videography based YouTubers who had previously sworn by Apple for years started making the switch to these powerful PC's that could reliably handle their editing needs.
As for the phones; he may have bought a new android phone with a ridiculous one-thousand megapixel camera but the photo just wouldn't look that great whereas I feel like the iPhone could have a ten megapixel camera and the photo would just somehow look better. Apple is just good at producing a quality image straight from the camera. Admittedly, we're at the point now where any flagship phone is going to be good - the latest Samsung, Pixel, Huawei etc. Now I think it comes down to personal preference when it comes to an operating system and how products integrate with one another. For me it's the subtle things like airdrop, the handover stuff, my Apple Watch unlocking my MacBook and The Cloud to name a few that would make the switch to another operating system almost impossible. When it comes to MacBooks they were always more expensive than their PC competitor but they were always more nicely designed and the difference in price could be justified. Now, with the M1 and M2 chips, I think it could be argued that when you work out what features and capabilities you're actually getting and how much you'd have to max out a PC to get the same bang for your buck; MacBooks may now work out very close in price if not cheaper!"
Any final thoughts?
"We'll be doing a hands on and in depth review of the new iPhone and Apple Watches so stay up to date with the Editors Keys and Buckle & Band YouTube channels to see Apples latest releases up close!"
So, lots to think about there! Some really great insights  from Mark so I'd like to say a massive thank you to him for taking the time to take part in this interview. Whilst we wait to se just how accurate his predictions turn out to be Mark will be actually checking in on the blog so feel free to ask him any questions or share your thoughts and predictions in the comments below.