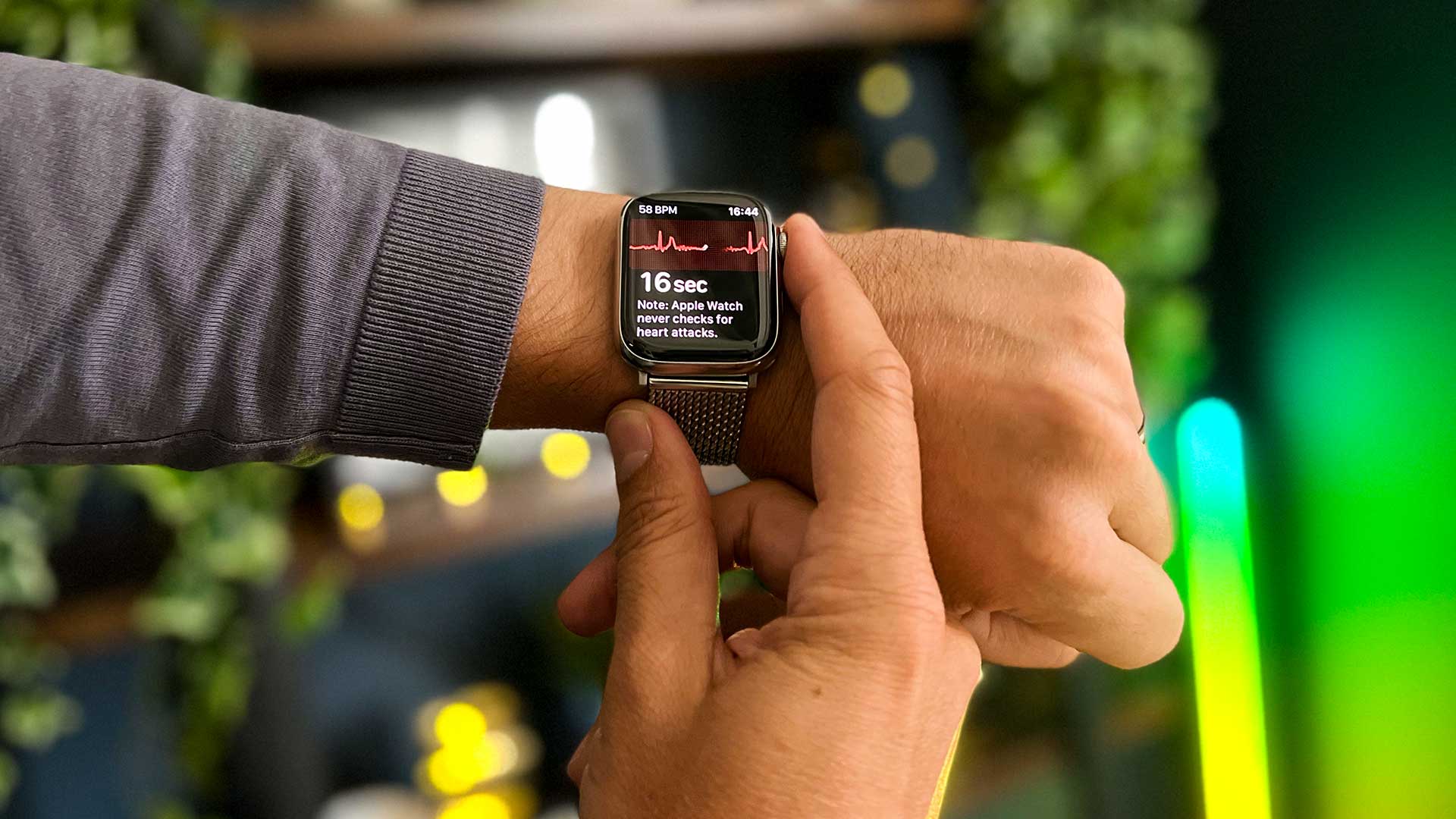 You won't believe these five life-saving Apple Watch stories!
We've all heard the old adage "an apple a day keeps the doctor away" well, it seems these days that the Apple in question is the company, or more specifically their range of smart watches. Over the years since its release in 2015, and the ever frequent updates that are being added, the Apple Watch has amassed a large amount of testimonials from customers who claim that the watch has saved their life. Be this indirectly through health apps and notifications, or through its built-in features which are made for such purposes, the Apple watch has been credited with saving numerous people's lives. Here are just a few examples of the Apple Watch's heroic features - 
Nitesh Chopra - 
The Apple watch saved the life of a dentist from India's Haryana region in early March of this year when he began experiencing pains in his chest. After conducting an ECG test via his Apple Watch, Chopra discovered that he had 99.9% blockage of his arteries and quickly rushed to a doctor. A surgical procedure was performed and a stent was installed in his heart, after a short stay at the hospital the dentist was returned safely home.
Nitesh's wife, Neha said that she feels lucky that they had the watch, having received it as a gift a year previously. The watch had been giving alerts and indications that Chopra has arrhythmia for a while, but the couple ignored the signs, assuming that because Chopra was a young man in his mid-30s, he wouldn't be prone to such heart diseases.
Kacie Anderson - 
During the rush hour traffic of a rainy Friday night a few days before Christmas in Maryland, USA, Kacie Anderson was waiting at the traffic lights at a busy intersection along with her 9-month old son, Parker, when they were struck by a drunk driver going over 60mph. "I was actually looking out the window when all of a sudden I felt this huge force on the left side," says Anderson. "My face hit the steering wheel, came back, hit the front of my headrests, and then it flung me back forward into the side window."
She tried reaching for her phone to call the emergency services, but the crash had sent the contents of the car airborne and her phone was out of reach. While she was searching, her hand bumped up against her wrist and she remembered that she had her Apple Watch on her, she pressed the digital crown and said "Siri, call 911". By the time that her husband (who was a few cars behind) had reached the wreck, the ambulance had already arrived, in Kacie's words "They were able to find where I was without me even really knowing"
It took well over a year for Kacie and her son to recover fully from their juries they sustained in the crash, but she says that it could've been a lot worse had they not been able to get help so quickly. Kacie wrote a letter to Tim Cook thanking him for the Apple Watch which she credits with saving her life and the life of her son.
Toralv Østvang -
Experienced Norwegian tech reporter, Toralv Østvang is no stranger to Apple products, having tested and reviewed many devices, but he had no idea that he would owe his life to a humble Apple product. In February 2019, whilst staying at a friend's house Toralv wore his Apple Watch Series 4 to bed so that he could test out a sleep app, but things begin to get blurry for him after this point....
Sometime after 4:00am, Toralv got up to go to the bathroom when he experienced a sudden drop in blood pressure. He fainted and collapsed face first onto the bathroom floor, his fall was detected by his Apple Watch (a new feature on the Series 4) which automatically notifies the emergency services if no movement is recorded after a minute of detecting a hard fall. "Nobody heard my fall," says Østvang "My friend and his wife didn't hear anything about it until the police car came to their door." He added "They could see the GPS coordinates of where I was, but they couldn't see exactly which apartment I was in," After receiving the alert, the local police were able to contact his wife, who was able to give them the full address of where he was staying.
Paramedics immediately rushed Toralv to a nearby hospital for treatment, he had suffered three fractures to his face and his chin bone had been pressed in. While he's cautious to say that the Apple Watch saved his life, Østvang does admit that it saved him from needing major surgery.
Jason Saucier - 
45 year old Jason Saucier had been feeling slightly off for a while, but he had no idea of the full extent of his health problems until his Apple Watch informed him. In Jason's own words "As soon as I put my watch on, it made a sound that I've never heard before," he says. "I looked down and it said that I was in aFib." As well as monitoring your heart rate, the Apple Watch is also able to detect if your heartbeat rhythm may be indicative of atrial fibrillation: a type of heart condition characterised by an irregular and often abnormally fast heart rate. These problems can lead to greater risk of stroke and other serious heart complications.
Despite experiencing some shortness of breath, Jason still went into work that morning but kept getting the same alert throughout the day. It wasn't until several of his co-workers mentioned how unusually pale he looked that Jason decided to pay a visit to the emergency room. "As soon as I got there, the cardiac team got right on me and said that I was close to going into cardiac arrest," says Saucier. 
The doctors corroborated what Jason's Apple Watch was telling him: he was in aFib. They kept him overnight at the hospital but he eventually transitioned out of atrial fibrillation and he was able to be discharged the following day. However, exactly one week later, the same notification popped up on his Apple Watch, but this time Jason listened straight away and returned to the emergency room. He remained in aFib for three days and was kept in for a further two days as doctors monitored his response to the prescribed heart medication.
Jason hasn't had any more incidents since the ordeal in late 2019, he credits the heart medication but still uses his Apple Watch to continuously monitor his heart.
Reylene Hackenwerth -
71 year-old grandmother Reylene from Saint Petersburg, Florida took a tumble in early March of this year, which triggered the fall detection feature on her Apple Watch, which her son had brought her as a Christmas gift. The watch notified the emergency services, providing the exact geolocation where Reylene was situated, as well as notifying her son. When paramedics responded to the call, Reylene was found injured and barely conscious, she was rushed to the hospital where the doctors found a mass in her lungs that appeared cancerous.
"If it hadn't been for the falling and the Apple Watch calling them, I wouldn't even know this was there and maybe by the time it had got found in the future, it would be too late," Hackenwerth said. She is currently awaiting to undergo treatment and both she and her son are grateful for the Apple Watch and its fall-detection feature, which they were both completely unaware of. "I couldn't be happier that that is what we decided to give her for Christmas this year. It never occurred to me that it would save her life," Hackenwerth's son said.
Do you have a similar story about the  Apple Watch? Maybe you or someone you know has had a similar close call and were saved by the clever little device sitting on your wrist? Tell us more in the comments below!