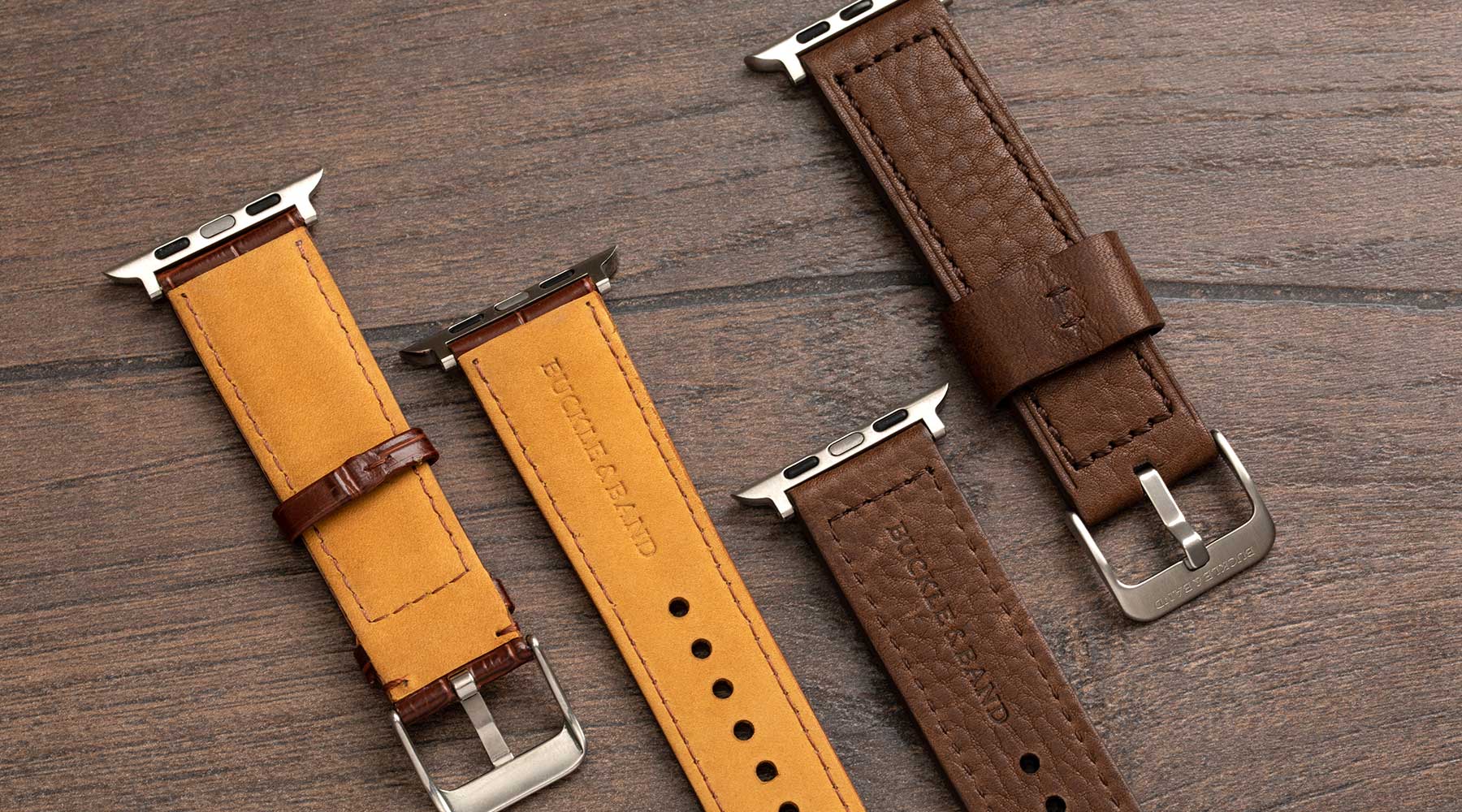 How to clean your Leather Apple watch straps?
You may have thought that caring for your watch strap was the same as caring for other leather goods, but there are some key differences. You need to take extra care in order get many years of use from it, so we hope this post helps your enjoy your leather or vegan leather straps from Buckle & Band.
Care Instructions for Lond, Miam Leather and Mila Suede Collections.
The Lond and Miam collections are really nice tough leather products and we recommend following this guide below. We have a few extra notes if you own the Mila suede strap.
1.) Daily use
When putting on or removing your Buckle & Band leather strap, it's important to take care not to pull the band too hard. Leather is a natural product and stretches with time so this will happen if you're pulling really tight! To avoid any unnecessary stress on both yourself and the leather of an expensive accessory like a nice wristwatch (or even many watch straps), just be gentle while fastening/removing devices from their respective loops
2.) Leather conditioners? Are they safe to use?
Yes it's safe to use leather conditioners on your Buckle & Band leather watch straps however only buy ones which are safe for use against your skin and check for any allergies you may have.
We recommend using natural skin safe products. Please note leather conditioner can darken leather. Again many people love this about natural leather but just be aware of this.
We have used this and it works great: https://amzn.to/3s3H2Nw
As suede is a more porous material it is much more likely to be affected by a colour change, so we recommend trying on a piece of suede material before applying any protectors.
3.) Like a Gremlin, avoid water. 
Water and oil is generally not good for leather as they can stain and permanently mark leather. A small amount of water on a light damp cloth will usually be fine to clean your strap, but we don't recommend you submerge your strap in water.
We do not recommend use any water at all for for the Mila collection.
4.) Use a soft brush
A very soft new toothbrush or microfibre cloth is the best tool to gently clean your leather strap and the Apple Watch connectors. Don't forget to remove your strap from your Apple watch when cleaning and ensure to clean the connectors.


Care Instructions for

 Hybri and Mona Collections
1.) As with the full leather editions we recommend you don't stretch the material too hard. That said, the Hybri and Mona straps for Apple watch have been designed to withstand everything you can throw at them. From sea swims to heavy workouts these straps are there for you.
2.) Whilst the underside silicone is a waterproof material, the treated leather tops will age naturally over time, so whilst it's safe to use them for all kinds of workouts, we do recommend you treat them with care.
3.) It is safe to use a little leather protector on these bands. We recommend allowing them to dry for 24 hours before wear. 
We have used this product and found it to work well to protect the leather: 
Care Instructions for Vegan Leather Products