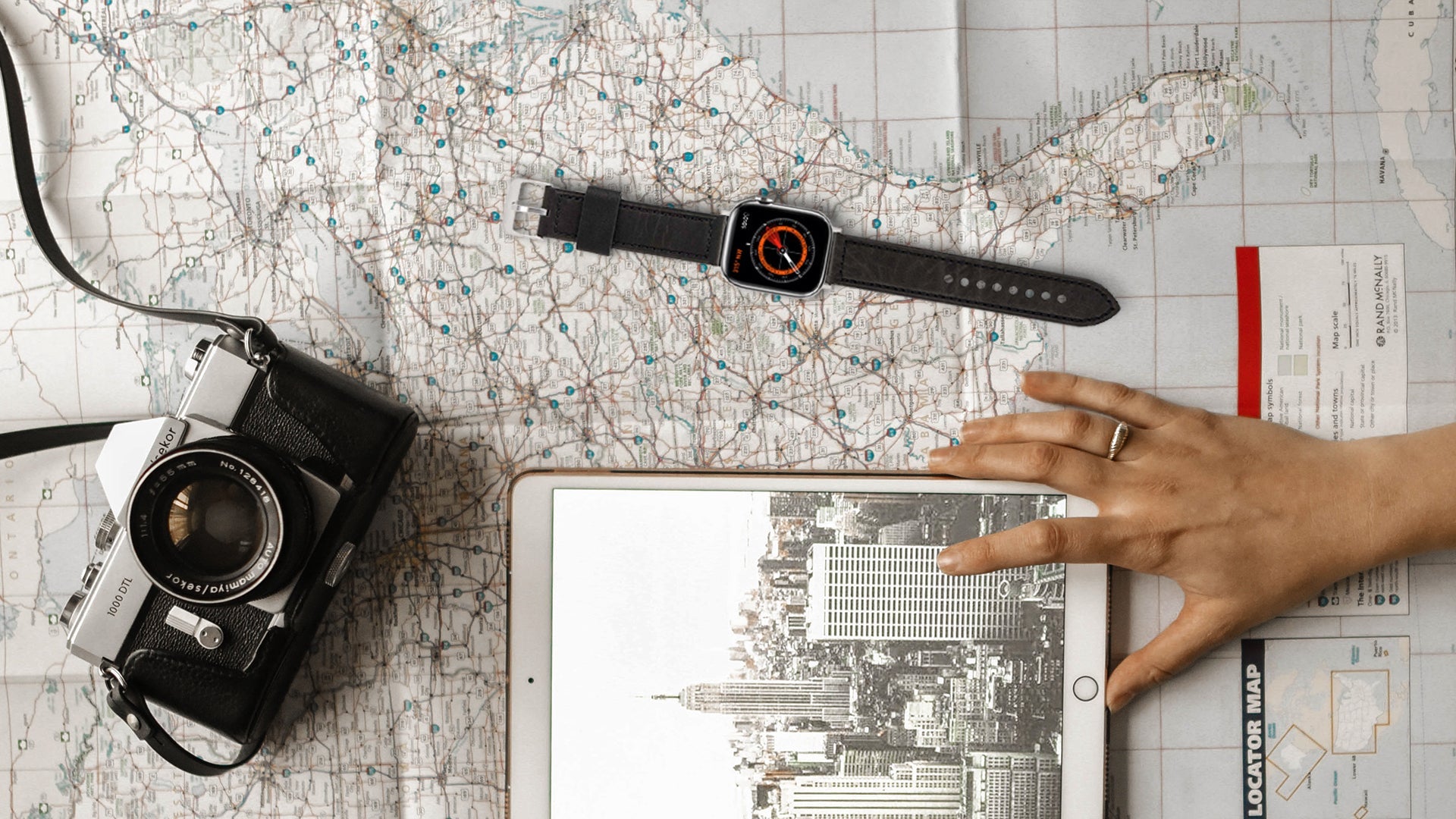 The Ultimate iPhone & Apple Watch Summer Travel Guide
It's that time of year again! The weather is warmer, the evenings are brighter and the school summer holidays are quickly approaching which means it's prime time for traveling! Whether that be a summer holiday, a nice staycation or a music festival it's nice to have a change of scenery whilst the weathers on our side (which just means not raining here in the UK). Whilst there's lots to be exited about, the prospect of traveling can often be an all out stress-fest especially with the added complications that come with a post-pandemic reality. The key to staying on top of it all is organisation. And whilst that's much easier said than done we believe utilising your iPhone and Apple Watch can make things much. much easier so read on to see what you can do to avoid holiday hell!
Making Sure You're Good To Go:
Wether you're off out for a day trip or about to leave for a ten day getaway you need to make sure you've got all the essentials in order prevent any kind of Kevin McCallister-esque nightmare from spontaneously spawning in front of your very eyes. For this I'd recommend writing out a tick list on your iPhone's notes app (to do this just hit the tick icon you can see above) the night before. Be sure that this syncs to your Apple Watch and then when it comes to making sure everything is packed you can just run through this list either on your phone or on your Apple Watch and tick off each item as you go. 
Getting There:
Wether you're driving all the way to your destination, kickstarting a road trip or ordering a taxi to the airport it's a good idea to ensure you won't be hit with a nasty surprise, that could have been avoided, during your journey. Be it a motor incident, construction works or road closures due to the circus being in town these sorts of events only seem to occur when we're right up against it. Luckily Waze is here to help! Hailed as the best real time GPS app out there Waze's main purpose is to alert you of, and help you avoid, traffic by providing alternative routes. Thanks to its real time alerts and community report features Waze tells you instantly about traffic, construction, police incidents, crashes, & more. In addition to this Waze can also help you find the cheapest place to re-fuel and you can now even select the most scenic route to take! Whilst not yet available for Apple Watch Waze is definitely worth having on your phone.
Of course Uber is on the list! The ease of booking a taxi, receiving a quote and getting from A to B is perfect for your travels. Uber says you can "Request a ride from 600+ airports and in 10,000+ cities around the world, the Uber app is a great way to make your travel plans stress-free." It's also worth noting you can "Request a ride on demand or schedule one ahead of time" which is perfect for getting to the airport, train station or local beauty spot bang on time. Not to mention it's convenience when abroad to prevent the inconsistencies that come with any language barrier. Unfortunately Uber removed their support for Apple Watch earlier in the year for whatever reason. Personally I found it really handy to be able to book a ride and keep an eye on the whereabouts of my driver from the comfort of my wrist and I hope they bring back some sort of Apple Watch support in future but for now I'll stick to using Uber from my phone. 
It's a great idea to add any travel tickets, boarding passes and covid passports to your Apple Wallet so when dashing through the airport you're not having to rummage through endless loose sheets or printouts whilst frantically trying to remove your face mask to enable your faceID whilst also carrying all your bags and making sure a member of your party hasn't gone awol! Your Apple Watch knows when you're near a scanner and will often prompt you to tap the screen to display the relevant ticket and save you a load of fuss.
Exploring 
Pretty straight forward but it's well worth mentioning that your Apple Watch will automatically adjust to the local time and weather forecast of your new location so you can stay on top of things and adjust your holiday plans accordingly. It's good to know when you'll need to pack some extra suncream and when you might want to be nearby some shelter. 
If you want to explore your new surroundings or just find a nice place to lay down a picnic blanket for the afternoon Komoot is definitely worth having on both your iPhone and Apple Watch. Choose from a vast selection of local hiking and biking routes and view photos and reviews from other users right from your phone. When you've picked where you want to go you can select the route and receive live directions from your Apple Watch as you go!
Day trips and holidays often make great memories and the right photo can bring them all rushing back in an instant. The issue is - as a couple, family or group - it's very difficult to get everyone in one photo without either using your (poorer quality) front camera complete with outstretched selfie arm, relying on a random passerby who will either run off with your phone or accidentally take a very close range photo of themselves looking bemused or, lastly, having to wield a selfie-stick which, lets be honest, belongs in only two places; back in 2015 and in Room 101. Luckily your Apple Watch can be used as both a view finder and a remote to activate a camera timer from your iPhone! Watch our video below to see how easy this cool trick is to do! 
Communicating
Traveling to another country often means you won't be able to communicate via the native tongue. Whilst many popular destinations often rely on tourism as their main source of income, and will therefor speak English to varying degrees, some quieter - or more off-grid - places may not offer this luxury. Wether it's the former or the latter people will always appreciate the effort made by a visitor to greet or thank them in their local dialect. In other places you may be visiting some form of simple communication may also be absolutely vital to obtain life's bare necessities.
If your well-organised, or visiting a place that you think you'll often return to, it's definitely worth trying out apps like DuoLingo or Babbel to pick up some useful phrases or maybe even a conversational understanding of the language. Both apps use fun, interactive formats to allow you to quickly learn spelling and pronunciation without getting bored or frustrated.
If you're a bit more up against it in terms of time then something like iTranslate is a great option. Select your language and the language you'd like to translate to in order to quickly learn or decipher words and phrases. You can even sync up your Apple Watch, tap to speak, say something like "Hello, how are you?" and translate it to Spanish. Your Apple Watch will then display the phrase in Spanish "¿Hola cómo estás?" so you can have a go at reading it yourself or choose to play aloud if you don't trust your pronunciation yet. This app also comes with other features such as a handy phrasebook as well as widgets and flashcards for quick learning. Furthermore, if you upgrade to the pro version you can use the amazing Lens Mode (to translate the written word - like on menus - directly from your camera), AR Mode (gives you the words for real world objects you point your camera at) as well as offline translate mode which is a lifesaver in the more remote areas.
If, like me, you're not great at mental arithmetic then this app if very helpful when using foreign currency. Depending on your whereabouts the value of a certain currency can differ greatly from the one you're used to. Let's say you're enjoying a few cocktails and some light lunch in Indonesia's picturesque province of Bali. You finish up, take the last slurp of your Raspberry Mojito and ask for the bill. It arrives in front of you and you're charged 357,477.44 Indonesian Rupiah. Under normal circumstances you might have a panic attack or frantically try to re-mortgage your house but with Currency Converter you can simply key in the amount, hit convert and relax in the knowledge that you've actually only been charged £20.00. Some banks also offer a feature via their mobile app that allows you to receive a notification outlining how much you've spent in local currency, your usual currency and if you've been charged any sort of exchange rate every-time you use your card. This is definitely something worth checking before you fly out.
Getting Back
When it comes to getting back home the apps and practices we recommended earlier such as; checklists, Uber and Waze are just as relevant. It's also worth having some podcasts, audiobooks, movies or TV shows downloaded to your iPhone for long journeys. But if you happen to experience any long queues or get hit with a lengthy delay and you're looking for other ways to pass the time check out our 10 Must-Have Apple Watch Games blog. 
Lastly, if you want to return to a nice warm well-lit home and you've installed smart plugs, smart devices or a home hub you can do so with the tap of a button - or simply via Siri. In addition to this you can of course turn off heating or air con schedules and turn on lights whilst you're away in order to prevent you from wasting money controlling the temperature of any empty house and to deter burglars from what might otherwise look like an unoccupied house. If you want to know how to do this check out Apple's guide on How To Control Your Home With Siri.
I hope you've found something helpful from this blog. If there's anything I've missed out please let me know in the comments below - we'd love to hear your recommendations! With that being said, however you choose to spend it, we hope you all have a really great summer - cheers!