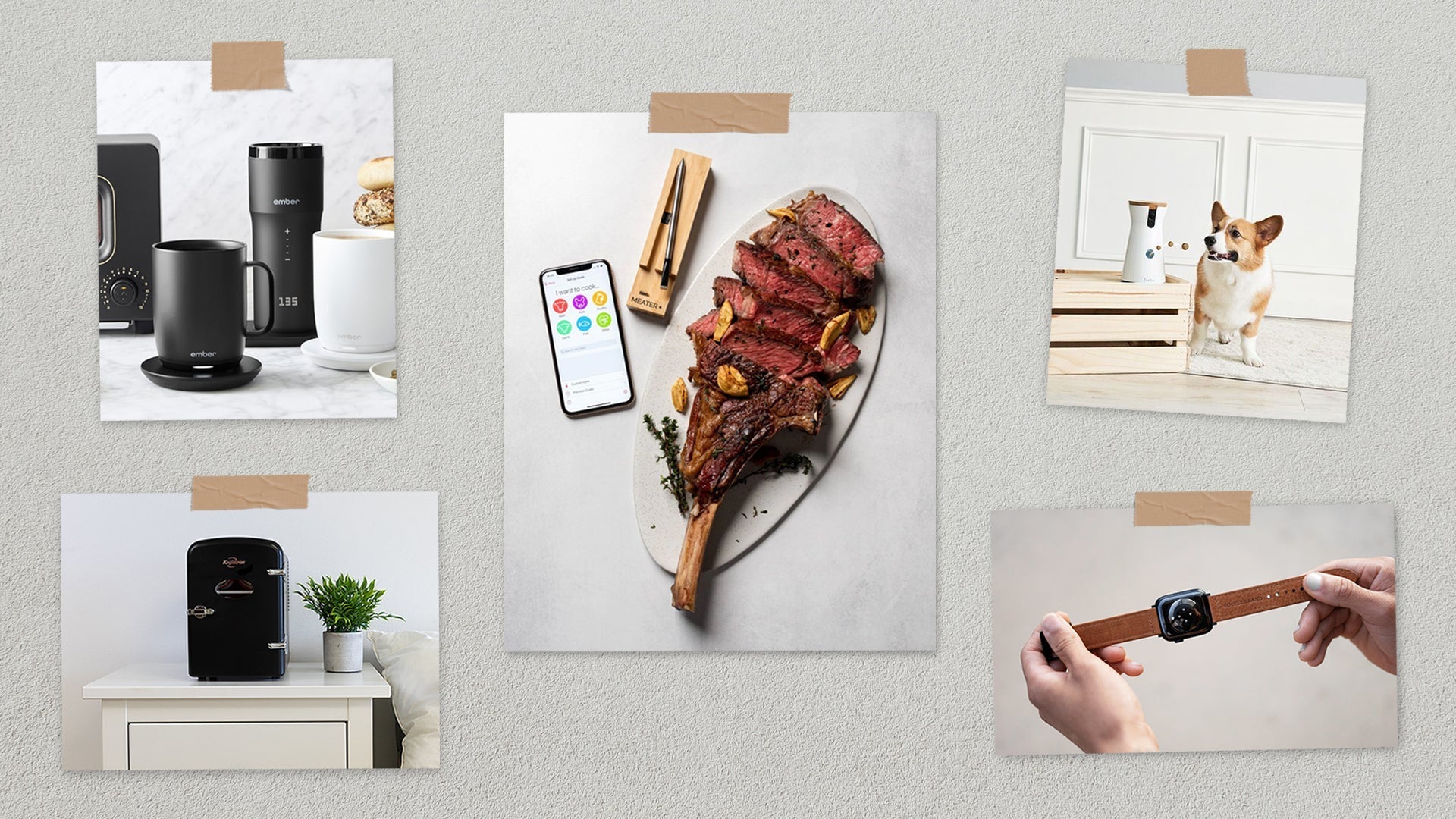 The Best Fathers Day Gift Ideas for Tech-Obsessed Dads!
The big day has almost come around once again and as our dad's eagerly await their special day many of us may be a little stumped when it comes to gift ideas. With so many options out there it's easier than ever to get lost in a sea of poor quality mugs and general plastic tat - but fret not! We've narrowed down some of the best gifts for all types of tech loving dads to suit a range of budgets. We're here to help you maintain the element of surprise and avoid entrapping your well-deserving father in a Goundhog Day-esque nightmare where all Fathers Day's have merged into a grey blur of poorly-crafted macaroni portraits and cheap ties. A bit dramatic - I know - but you get the gist. So without further ado let's take a look at our tech-centred 2022 Fathers Day gift guide!
 Ember - Temperature Controlled Mug
We're going to kick things off with a mug! No, not the type of mug I so-ruthlessly slated not but four sentences ago - this is the creme de la creme of the crockery cabinet. I am of course referring to Ember's brilliant (and worlds first) temperature controlled mug! Whether you have a dad that enjoys a relaxing cup of tea, a steaming hot coffee or even a mean and meaty bovril (if anyone still drinks that stuff) the one thing you can guarantee he hates is when it goes cold and then, inevitably, to waste. Ember have cleverly eradicated this problem with their range of mugs that will not only keep dads drink hot for up to one and a half hours but also allows him to find and maintain his specific, ideal drinking temperature that he can control from his phone! Check out Embers range of sizes and colours to find your dad's perfect mug here. (Also available from a range of Ember's official resellers.)
Koolatron - Portable Mini Fridge 
From keeping warm to staying cool; next up is Koolatron's highly regarded portable mini-fridge. The brand itself may sound like a new wave transformer but it's mini-fridges are no joke. This portable retro model boasts a sleek design and is available in a choice of three colours with a six-can capacity. A great addition to any car, office or man-cave; the handy portable nature of this fridge means your dad doesn't have to pick just one place to plug it in. Wether it's keeping beers ice-cold for guys night or preventing snacks from melting on the way to the big game - Koolatron has got his back! Explore the range here.
Furbo - 360 Degree Dog Camera & Treat Dispenser
Why not please more than one member of your family with this next gift as it's not only for the man of the house but also for a man's best friend! If your dad's not a dog owner feel free to skip ahead to our next recommendation...unless you're also able to source a dog on short notice - in that case please don't go anywhere. We're talking about Furbo's 360 Degree Dog Camera and Treat Dispenser! Yep, you heard it right - what a world we live in. If your family unit has succumb to the classic tale of; mum and kids want dog, dad says no, mum and kids plead and plead, dad says no, mum and kids decide they don't need dads blessing and proceed to buy dog, dog ignores mum and kids, dog loves dad, dad loves dog and so on and so forth then you'll know how much he'll love this nifty bit of kit. Furbo allows dad to always be able to keep an eye on his mischievous mutt as well as talk to him/her directly through the device and even fire a meaty pellet of pure joy into it's treat-loving face (or just gently place one nearby)...wait for it...from absolutely anywhere! Take a look at the gift that keeps on giving right here and enjoy 20% off this week only.   
Apple - AirTag
If your dad is anything like mine then organisation isn't exactly his strong point and this can lead to frustration, stress and of course the sudden disappearance of important belongings. If he is the proud owner of an iPhone then why not get him some Apple AirTag's to amend his rare imperfection this Fathers Day? They're discreet, affordable and have accumulated some rave reviews since their release back in April. He'll simply pair them with his phone, attach them to his beloved belongings (wallet, keys, backpack...the dog?) and when one of them seems to have sprouted a set of legs and gone walkabouts dad can easily track down the item directly from his phone with ease. Take a look at Apples buying options here. If your dad is an android user then the Tile range is a great alternative!
Apple Watch
From Apple Air Tags to Apple Watch. In fact why not also get him a pair of Apple AirPods, an Apple iPad and maybe an actual apple to complete the set? Well, probably because you're not a gazzillionaire and because a piece of fruit is possibly the worst gift ever - and that's fair enough. We all know that Apple's products can come with a hefty price tag but we believe the Apple Watch is well worth it. Wether it be for fitness, music, payment, communication or convenience the Apple Watch has a huge amount of perks and benefits that are bound to appeal to your dad and get a tremendous amount of use over the years...oh and it also tells the time which is quite handy. If you'd like to delve deeper into these features we have a full blog and video on them right here. If you'd like to take a look at Apple's range of watches you can check them out here.
Buckle & Band - Apple Watch Straps
As I've just stated, we believe that the Apple Watch is well worth the price tag but what we don't believe is totally worth the fee is Apple's range of watch straps. If they're not a bit bland then they're ridiculously overpriced - and that's where we come in. Did you really think we could do a countdown of tech-related gift idea's and not mention ourselves? If you don't already know - Buckle & Band specialises in premium quality Apple Watch straps that makes tech look timeless. From classy and comfortable silicone-leather hybrid straps for active daily-ware to the more premium leather and stainless steel luxury straps; we've got you covered. If you think your Dad would rather choose his own style we also provide e-vouchers so he can take his time to choose the best option for him. With worldwide shipping available from our site and with our Amazon store up and running why not explore the full range here. If you have any questions or queries myself or a member of team would be more than happy to help you out.
Meater Plus - Meat Thermometer
Last but certainly not least is the mighty Meater Plus. Does your dad fancy himself as king of the grill? Has he established a strict Area 51 style guarded radius around your BBQ that only he, and he alone, can enter? Well this might just be the perfect gift for him. If you've mindlessly scrolled through the more carnivorous side of TikTok recently you'll know that these are all the rage at the moment as they get used by influential meat enthusiasts with serious names like Brisket Barry or Carnivorous Kevin (I've just made them up but I'm sure they're out there). Not only does your dad get the opportunity to introduce an other impressive piece of tech to his roster and cook his steaks to utter perfection but your family also gets the piece of mind that comes with knowing you won't be plagued with an aggressive bout of food poising after your dad insists chicken is best served medium rare. Pick yours up here.
That brings us to the end of our tech-related Fathers Day gift guide. Thank you for taking this journey with us! If you're still unsure about what to go for why not take a look at our general Fathers Day Gift Guide? Or even our Retro-Loving Father's Day Gift Guide? I'm sure whatever you choose your dad will appreciate all the time and thought you've put into it and will be more than happy to be surrounded by his offspring on his special day! Thanks again for visiting our blog - here's to a great Fathers Day 2022!